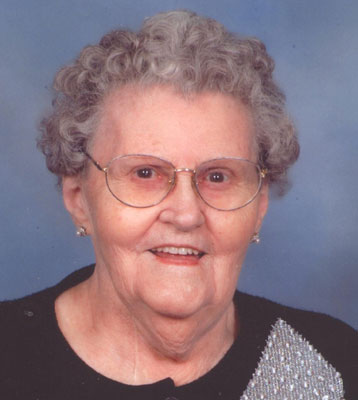 MARY LOUISE WETZL
HUBBARD – Mary Louise Wetzl, 89, died Saturday morning, Jan. 12, 2013, at Liberty Health Care.
She was born April 6, 1923, in Freeman, W.Va., a daughter of John and Theresa Bonaparto Knebel and was a lifelong area resident.
Mrs. Wetzl, a homemaker, had worked for General Electric and Elasticmatic. She was a member of St. Patrick Church and its Altar and Rosary Society. Mary enjoyed embroidery, bingo, playing cards, watching baseball and going to Atlantic City.
Her husband, Adam S. Wetzl, whom she married Nov. 8, 1941, died Feb. 9, 1982.
She leaves two sons, Adam J. (Patti) Wetzl of North Lima and Joseph (Lillian) Wetzl of Hubbard; three daughters, Mary (Tony) Pantone of Hubbard, Barbara (fiancé Joe Jones) Rochette of Leetonia and Frances (Tom) Fullerman of Canfield; 11 grandchildren, Chris Wetzl, Amanda Darbyshire, Tony Pantone Jr., Karen Pantone Eusanio, Sherry Miller, Eddie Hyland, Elizabeth Wetzl Hamm, Joanna Wetzl, Samuel Wetzl, Kristy Budavich and Kelly Fullerman; and 12 great-grandchildren, A.J. Pantone, Dominic Pantone, Jonathan Miller, Justin Miller, Audrie Hyland, Brittanie Hyland, Jamie Hyland, Charity Hamm, J.W. Hamm, Tino Eusanio, Mario Eusanio and Angelina Eusanio.
Mary was preceded in death by her parents; two brothers, John Knebel and Steve Knebel; and three sisters, Anna Leopold, Theresa Pepper and Emily Hlebak
Family and friends may call on Monday from 5 to 8 p.m. at the Kelley-Robb-Cummins Funeral Home.
Funeral services will be held Tuesday at 9:15 a.m. at the Kelley-Robb-Cummins Funeral Home and a Mass of Christian Burial at 10 a.m. at St. Patrick Church with Fr. Tim O'Neill officiating.
Memorial donations may be made to Hospice of the Valley, 5190 Market St., Youngstown, OH 44512.
The family wishes to thank the staff at Liberty Health Care and also Hospice of the Valley for the wonderful care Mary received while in their care.
Interment will be at Calvary Cemetery.
Please visit www.krcummins.com to view this obituary and to send condolences to the family.
Guestbook Entries
"My deepest sympathy to my Wetzl cousins and their families at the loss of their mother. I remember Aunt Mary as a loving, gentle person with a great laugh. May she rest in peace. God bless her."
» Marion Wetzl Cleary on January 13, 2013
Sign the Guestbook
---