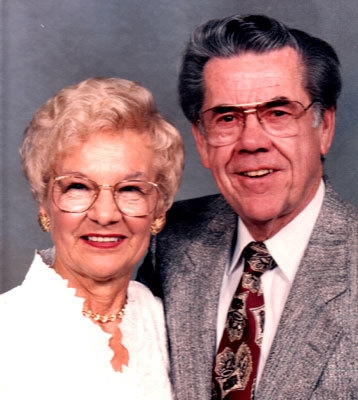 VERA PLATT
"Together Again"
CORTLAND – Vera Platt, 90, died on Friday, Feb. 22, 2013, at St. Joseph Health Care Center in Warren.
She was born on July 15, 1922, in North Beaver, Pa., a daughter of Jatiana Hermanovich and Paul Dmitruk.
Mrs. Platt was a 1940 graduate of Harding High School of Warren, and earned a bachelor's degree from Youngstown College.
On Sept. 1, 1946, she married Robert M. Platt Sr.
She was a secretary for Federal Machine & Welding of Warren, and then for Gessner & Platt Law offices, until she retired.
Mrs. Platt was a member of the former Second Christian Church of Warren, the Trumbull County Bar Association Auxiliary, the Pink Ladies of Trumbull Memorial Hospital, the Four Seasons Flower Club, the Harbor Yacht Club of Ashtabula, and she was a member of Youngstown State University Alumni.
She enjoyed going cruising, traveling, boating, dancing, golfing, playing cards and working in her flower garden.
Mrs. Platt was preceded in death by her parents; her husband of 63 years, Attorney Robert M. Platt Sr., who died on May 9, 2010; her sisters, Lillian Noss and Riessa Dmitruk; and her brother, George Dmitruk.
Survivors include two daughters, Carol L. Frey of Round Rock, Texas and Kerry S. Elliott and husband Deland of Cape Coral, Fla.; a son, Judge Robert M. Platt Jr. and wife, Susan Richards Platt of Cortland; four grandchildren, Wendy (James) Orsine of Niles, Justin Platt of Vienna, Chelsee (Brian) Atkins of Gainesville, Fla. and Bryan (Kelly) Wilmouth of Ville Platte, La.; seven great-grandchildren; and two special caregivers, Patty Iser and Dottie Humphrey.
A funeral service will be held on Friday, March 1, 2013, at 11 a.m. at the Baumgardner Funeral & Cremation Service, 8569 Main St. in Kinsman, with the Rev. Susan Francis officiating. Entombment will follow at Pineview Memorial Park in Warren.
Calling hours will be held on Thursday, Feb. 28, 2013, from 6 p.m. until 8 p.m. at the funeral home.
Memorial contributions may be made to the Animal Welfare League, 545 Brunstetter Road SW, Warren, OH 44481.
An online guestbook at www.baumgardnerfuneralhomes.com is available.
"…Remember The Joy, The Laughter, The smiles for I've only gone to rest a little while…."
Guestbook Entries
« Be the first to sign VERA PLATT guestbook.
---