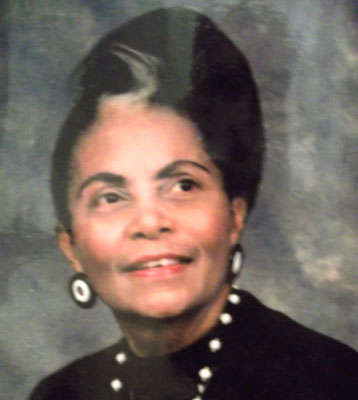 RUTH MAE FRANKLIN
YOUNGSTOWN – Ruth Mae Franklin was born March 13, 1925, in Marion, S.C., to Samuel Paul Sr. and Fannie Boulware Branch. She was the third of six children.
On Friday, Feb. 22, 2013, God sent his angel to take Ruth to her new heavenly home.
Ruth was married to the late Governor Boatwright and to this union were born Richard, James Ponce and Anthony.
Ruth was also married to the late Spencer Franklin and to this union was born Pascal Franklin.
She graduated from Marion County Training Elementary and High School, and trained and worked as a nurse's aide at Southside Hospital. She also worked in the cafeteria at Princeton Junior High School. She learned to sew and taught sewing classes at the Clarence Robinson Center.
Ruth also attended Atwater School of Beauty Culture in Sharon, Pa., where she obtained her cosmetology license. Ruth became the proud owner of her own beauty salon, "Ruthie's Beauty Box," and maintained customers until her illness.
She loved flowers, gardening and enjoyed fishing. She also loved to travel and visited many places in the United States, the Virgin Islands and abroad.
She was a long time member of the Price Memorial A.M.E. Zion Church, and a member of its choir.
She leaves to celebrate her life, her sons, Richard Boatwright, Anthony Boatwright and Pascal Franklin; her sister, Martha Branch Arnold; six grandchildren; 12 great-grandchildren; two great-great-grandchildren; and a host of family and friends.
Ruth will be greatly missed.
Besides her parents and husbands, she was preceded in death by her son, James Ponce Boatwright; and four siblings, Mrs. Ulysses Branch Williams, Samuel Paul Branch Jr., Mrs. Mary Branch Layton and Mrs. Phoebe Branch Ash.
Friends may call Friday from 11 a.m. to noon at the Price Memorial A.M.E. Zion Church. Funeral services will follow immediately at noon.
Arrangements entrusted to the L.E. Black, Phillips & Holden Funeral Home.
Guestbook Entries
"My sincere sympathy to the Boatwright family. Ms. Ruth was a very lovely person. "
» Chithea Summers-Robinson on February 27, 2013
"My sincere sympathy to the Boatwright family. Ms. Ruth was a very lovely person. "
» Chithea Summers-Robinson on February 27, 2013
Sign the Guestbook
---