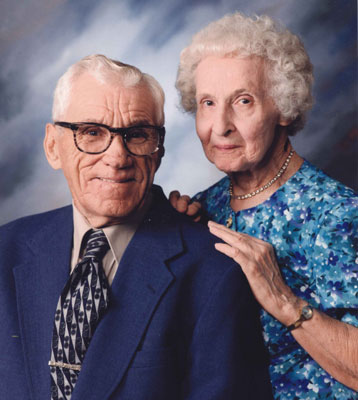 MAXINE PENNELL BEQUEATH
"Together Again"
McDONALD – Funeral services will be held at 1 p.m. on Thursday at the Lane Family Funeral Homes, Mineral Ridge Chapel, for Maxine Pennell Bequeath, 92, who passed away peacefully at her home on Monday, Feb. 25.
Maxine was born Feb. 4, 1921, in Vienna, the daughter of Paul and Ruth (Gates) Pennell.
She was a 1938 graduate of Vienna High School and Youngstown Business College. She worked in the offices of Trimedge Inc. prior to her marriage.
Maxine was a homemaker who loved to bake and cook. She was an avid reader who kept abreast of current events. She enjoyed Christian television and radio, as well as a good game of Scrabble. Maxine loved animals, especially dogs.
She was a lifelong member of the Highway Tabernacle Church. In the 1950s, she was also a foster parent for the Trumbull County Children Services.
Maxine married Homer Thomas Bequeath on Aug. 4, 1947, and he preceded her in death on April 15, 2004.
She leaves one son, Lawrence (Mary Jane) Bequeath Sr. of McDonald, as well as four grandchildren, Cara (David) Bowman of Colleyville, Texas, Lawrence Bequeath Jr. and Rebecca Bequeath, both of McDonald and Benjamin Bequeath of Girard. She also has four great-grandchildren, Luke, Kyle and Lily Kate Bowman of Texas and Jackson Geddes of McDonald.
Besides her parents and husband, Maxine was preceded in death by her sister, Clarabelle Zents; and two brothers, Richard and John Pennell.
Friends and family may call from 11:30 a.m. until 1 p.m. on Thursday at the funeral home prior to the services, which will be officiated by the Rev. Joel J. Theis Sr.
Family and friends may visit www.lanefuneralhomes.com to view this obituary and to send condolences.
Guestbook Entries
"Dear Larry and family. Sorry to hear of the loss of your mother. Just know that you are in my prayers. In Christian Love, Judy Sheridan Bogan"
» Judy Sheridan Bogan on February 27, 2013
"Larry and Family,so sorry for your loss. You were blessed having your mother for so many years. She was in return a blessing to all who had the honor of knowing her. She and Homer left a great legacy.God bless you."
» Pastor Bob brookhart on February 27, 2013
cousin
"Saying goodbye to a family member and friend. Special thoughts to Larry and family."
» Vera Gilligan on February 27, 2013
cousin
"Saying goodbye to a family member and friend. Special thoughts to Larry and family."
» Vera Gilligan on February 27, 2013
"In loving memory of my dear cousin, Maxine."
» June Fenstermaker Wright on February 28, 2013
Sign the Guestbook
---