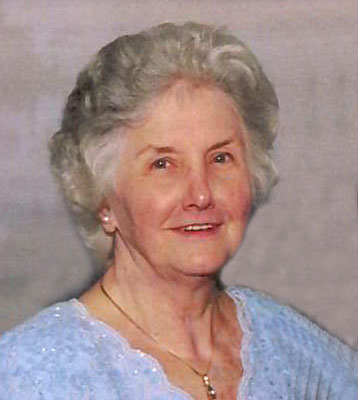 MARJORIE G. DOWNIE
POLAND – Marjorie G. Downie, 88, died at her home early Saturday morning, February 23, 2013. She will be missed dearly by her loving family.
Mrs. Downie was born Marjorie Germaine Thomas on Dec. 27, 1924. She was the daughter of William and Isabelle (Schomer) Thomas.
She is survived by her husband of 62 years, William Ellis Downie, whom she married on June 17, 1950.
A life-long resident of the Youngstown area, Marjorie graduated from South High School, and from Youngstown College with a bachelor's degree in biology. She also attended Western Reserve University to complete her training as a medical technologist. Prior to her marriage, she worked as a medical technologist for local medical practices. While raising their six sons, she worked as the office manager for her husband's construction company, W. E. Downie Company, and served as one of the company's officers.
Marjorie attended the Holy Family Catholic Church in Poland for over 50 years. She was very involved in many activities at the church, most recently as a member of the Bereavement Committee. She was a member and past president of Friends of the Poland Library, and a member of the Embroiderers' Guild of America, Youngstown Chapter, and the Poland Sports Boosters.
In 2012, she and her husband received the Dr. Port Spirit Award for their support of Poland Seminary High School athletic programs over many years.
In her free time, Marjorie thoroughly enjoyed visits with her family, jigsaw puzzles and her many needlepoint projects. Her family will forever treasure the needlepoint gifts that she made for them. In addition, she always looked forward to the annual family summer vacation in Corolla, N.C.
In addition to her husband, William, Marjorie leaves six sons, Bill (Jill) Downie of Youngstown, Brian (Mary) Downie of Washington, D.C., Bruce (Carolyn) Downie of Chagrin Falls, Brad (Susan) Downie of Boardman, Blair (Darcy) Downie of Troy, N.Y. and Barth (Judy) Downie of Tiffin; two brothers, Frank Thomas of Baden, Pa. and Ray (Mary) Thomas of Boardman; one sister, Dorothy Place of Bellbrook; 16 grandchildren, Dale, Beth, Jim, Ned, Alec, Matt, Colleen, Will, Austin, Alexis, Ashlynn, Danielle, Emily, Laurel, Ben, and Katie; and two great-grandchildren, Charlotte and Elise.
Marjorie was preceded in death by her brother, Robert Thomas and her sister, Mary Barnhart.
Family and friends will be received during calling hours from 5 to 8 p.m. on Friday, March 1, at the Cunningham-Becker Funeral Home, 270 N. Main St. in Poland.
A prayer service will be held on Saturday, March 2, at 9:30 a.m. at the funeral home.
A Mass of Christian Burial will follow at 10 a.m. at the Holy Family Parish, 2729 Center Road in Poland.
Interment will follow at Poland Riverside Cemetery.
The family requests that memorial tributes take the form of contributions to The Marjorie Downie Scholarship Fund, Holy Family School, 2731 Center Road, Poland, OH 44514 or to Friends of the Poland Library, 311 S. Main St., Poland, OH 44514.
Please visit www.beckerobits.com to send condolences.
Guestbook Entries
"We are so sorry to hear about Marg's passing, our prayers are with you all at this special time."
» Nick and Phil Tiberio on February 27, 2013
Sign the Guestbook
---