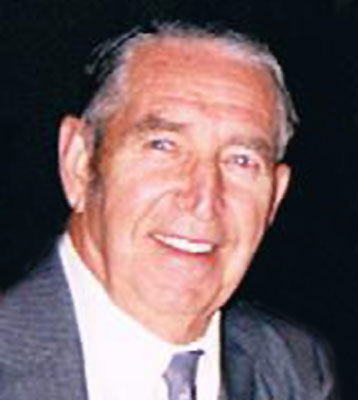 LOUIS H. STEIB JR
WARREN – Louis H. Steib Jr., 89, passed away on Tuesday morning, Feb. 26, 2013, at Autumn Hills Care Center in Niles, following an brief illness.
Louis was born on May 6, 1923, in Youngstown, the son of the late Louis H. Sr. and Christine Stieb Steib.
He was a 1942 graduate of the former Scienceville High School in Youngstown.
He worked and retired from Republic Rubber in 1978 after 30 years of service and then went on to work at Sharon Steel as a slitter and retired in 1989.
Mr. Steib was a member of the Hartford Masonic Lodge and also a member of the Howland United Methodist Church.
Louis was also an honorably discharged U.S. Navy veteran of World War II.
Survivors include his wife, the former Anna Faber Lazor, whom he married on June 6, 1998; five children, Duane (Lylia) Steib of Oizingston, Texas, Gary (Barbara) Steib of Greensburg, Pa., David (Brenda) Steib of Dallas, Thomas (Barbara) Steib of Concord, Ohio, and Janet McLaughlin of Las Vegas; eight grandchildren; one great-granddaughter; two sisters, Lucy Hammar of Florida and Freida "Fritz" Wysacki of Arizona; sister-in-law Dee (Jack) Donaldson Leiland North Carolina; his step-children, James (Beverly) Lazor of Howland, Daniel (Marylou) Lazor of Howland, Thomas (Karen) Lazor of Howland, David Lazor of California, John (Jack) Lazor, Nancy Jurkovic of Cortland, and Mary Beth Lazor of Cortland; 16 step-grandchildren; and 10 step-great-grandchildren.
Louis was preceded in death by his parents; first wife Betty Cleveland Steib; and his two sisters, Louise Merwin and Mandy Jones.
Family and friends may visit from 5 to 7 p.m. Thursday, Feb. 28, 2013, at the Madasz Chapel of Lane Family Funeral Homes, 6923 Warren-Sharon Road, Brookfield, OH.
Funeral services will be held at the Howland United Methodist Church at 11 a.m. Friday, March 1, 2013, where family and friends may also visit one hour prior to the service. Pastor Matt Darrin will celebrate Louis' life.
Friends and family may visit www.lanefuneralhomes.com to view this obituary and send condolences.
Guestbook Entries
« Be the first to sign LOUIS H. STEIB JR guestbook.
---