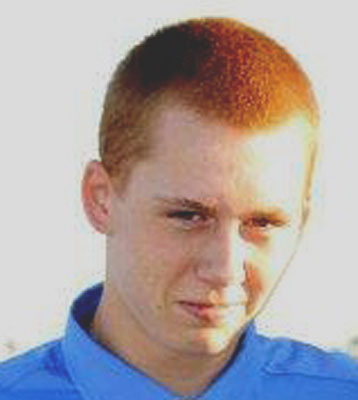 KYLE WAYNE RUFFNER
EDGEWATER, FLA. – Kyle Wayne Ruffner, 15, died Saturday at his residence.
Kyle was born March 10, 1997, in Youngstown, a son of David and Jennifer Jones Ruffner.
He was raised in Austintown and moved to Florida eight years ago. He also lived in Kentucky.
He attended Lynn Kirk Elementary School in Austintown and New Smyrna Beach High School in Florida, where he was a sophomore.
Kyle loved sports and played for the Austintown Little Falcons football team and Austintown soccer league. He was currently playing for New Smyrna Cudas Football Team. When not playing football, Kyle enjoyed playing a game of basketball with his friends. Kyle loved the outdoors, spending time at the beach and expeditions of night fishing with his friends. With his father in Kentucky, he enjoyed 4-wheeling and hunting. He was an avid fan of the Pittsburgh Steelers, enjoyed attending the Daytona 500 and visiting Disney World.
Even though Kyle's nickname was "Ruff Dog," he loved performing with his buddies as a back up dancer for the New Smyrna Beach National Show Dolls.
He was a former member of the Christ Presbyterian Church in Youngstown and was presently attending St. Paul's Episcopal Church in New Smyrna Beach, where he helped out with Vacation Bible School.
Kyle will be remembered for his contagious smile, wonderful sense of humor and his kindness. He was always ready for a big hug and shared his affection with friends and family openly. Kyle will be sadly missed, loved and remembered by all who knew him in Austintown, Edgewater and Stamping Grounds, Ky.
Kyle is survived by his parents, David (Lee) Ruffner of Kentucky and his mother, Jennifer Ruffner, with whom he made his home in Florida; one sister, Kayla Ruffner at home; one brother, Christian Squibbs, also at home; grandparents, Carol "Graw" Jones of Columbiana, June Williams of Kentucky and Cliff (Alice) Ruffner of Pennsylvania; two aunts, Kim "Kiki" (John) Hladun of Berlin Center and Tina Weaver of Pennsylvania; three uncles, Cliff Ruffner of Pennsylvania, Robert Ruffner of Pennsylvania and David (Lisa) Euler of Kentucky; and 11 cousins, Cody, Melissa and Joe Hladun, Shane, Garret and Bobby Ruffner, and Michael, Krista, Samuel, Corey and Ricky Euler.
Kyle was preceded in death by his grandfather, Clinton "Rick" Jones and his uncle, Clinton "Ricky" Jones.
Funeral services will be held on Friday at 2 p.m. at the Cunningham-Becker Funeral Home, Poland, with Pastor Bob Offerdahl and Pastor Leo Feher officiating.
Interment will follow at Lowellville Cemetery.
Friends will be received on Friday from noon until 1:45 p.m. at the funeral home.
Visit www.beckerobits.com to send condolences.
Guestbook Entries
Old Neighbors of austintown
"Jennifer i'm so sorry for your loss of your son ,i remember him as a little boy ,this is such a shock to see this ,ken died 05-17=2010 also ,if i get a ride i 'll be there ,i hope yopu are ok ? this is so sad ,i live in Hubbard now ,i'm on facebook if you want to get ahold of me ,again i'm so sorry for your loss"
» Vicky & Tiffany Bragalone on February 27, 2013
Old Neighbors in CPW
"I'm so sorry for your loss .Kyle was a good kid ,he will truly be missed by alot of family and friends ,we miss you all when you moved ,i live in Hubbard Ohio now after Ken died in 2010 ,i will try to make it to see Kyle may he RIP now ,i'm very shocked and sadden by all this Jenn,please call me or i'm on facebook now ,keep in touch soon"
» Vicky & Tiffany Bragalone on February 27, 2013
Forever Friend
"Dear Jenn, I am Sooo Very Sorry. My hearts aches for You and your family as well. Kyle will always be remembered. I am Soo Sorry, that I could not make the services. Due to the time frame, I was working and tried to be there for you. I just could not get away. I wanted so badly too see you, And pay my respects. Words Can not express how I feel. You have my Deepest Sympathy. Love, Your Longtime Forever Friend. Sandee Schlosser."
» Sandee Schlosser on March 2, 2013
"sorry for your loss, i knew kyle from pop warner football. he was a very friendly and outgoing personality, always up beat. A true team player. I was a quiet kid and socially awkward but Kyle befriended me. I will always remember his cool, relaxed but enthusiastic and energetic dimeanor. Sorry for your loss Mr and mrs ruffner and family, may kyle be remembered by the lives he has touched. "
» Cameron on March 16, 2013
Sign the Guestbook
---