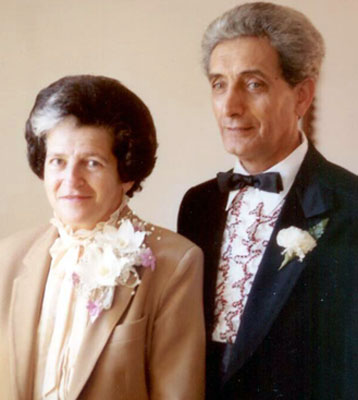 JAMES J. LARUBBIO
YOUNGSTOWN – There will be a gathering of family and friends Thursday, Feb. 28, at the Schiavone Funeral Home for a funeral service at 11 a.m. to celebrate the life of James J. LaRubbio, 91, who died Feb. 21.
"Jim" was born Nov. 17, 1921, in Brier Hill, the son of Maurizio and Josephine LaGuardia LaRubbio.
A 1938 graduate of The Rayen School, he served in World War II in England.
Upon his return, he worked at U.S. Steel McDonald Works and Wean United Engineering, from which he retired in 1983. He will always be remembered by co-workers and management as a hard working and dedicated worker.
He married the former Antoinette Ruberto on Oct. 4, 1952. He and his wife enjoyed watching their son play sports and their daughters' school activities.
Jim enjoyed family and friends, reading, working crossword puzzles and high school football. He was an avid Penn State fan. He was a member of Our Lady of Mt. Carmel Church in Niles and the Sons of Italy Club in Brier Hill.
He is survived by a son, Maurice (Andrea) LaRubbio of Winter Springs, Fla.; two daughters, Caroline (Tim) Matzye of Niles and Barbara (Greg) Anerino of Sanibel Island, Fla.; two grandchildren, Brian and Andrea Matzye; a brother, Anthony "Tony" LaRubbio of Youngstown; and sisters-in-law, Maggie LaRubbio of Poland and Angela LaRubbio of Houston. He will also be missed by his in-laws in Huian, China.
He was preceded in death by his wife, Antoinette on Oct. 27, 1985; his parents; brothers Frank, Victor, and Carl LaRubbio; sisters-in-law Angeline LaRubbio and Madeline LaRubbio; and nephews Morris LaRubbio and Christopher Manos.
Visit www.schiavonefh.com to share condolences.
Guestbook Entries
"Our deepest sympathy too the family!! Jimmy will be ""GREATLY" missed bye all who knew him R.I.P. JIMMY"
» Jackie Donelson on February 27, 2013
"Our deepest sympathy"
» Bill and Diane Kerr on February 27, 2013
"very sorry about Jim.I knew him for years.A great friend to know."
» Ken Tripodi on February 28, 2013
Sign the Guestbook
---