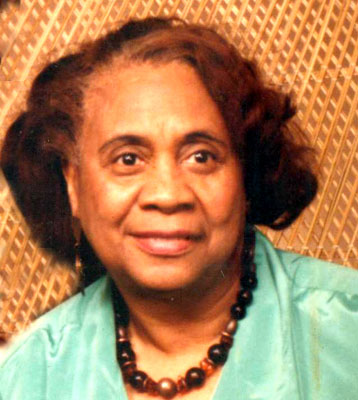 IZORA 'MA REID' REID
YOUNGSTOWN – Services will be at 1 p.m. Friday, March 1, 2013, at the L.E. Black, Phillips and Holden Funeral Home for Mrs. Izora Reid, affectionately known as "Ma Reid," who departed this life at St. Elizabeth Health Center.
Mrs. Reid was born Dec. 24, 1923, in Youngstown, a daughter of Benjamin and Addie Lewis Crim.
She was a graduate of The Rayen School and had been employed by General Motors Lordstown for 20 years. She was also a caterer, and had worked for Cicero's Restaurant as a short order cook, Raveena Steel, and was a cook for Larry's Lounge.
She was a former member of the Sun Shine Chapter of the Eastern Star. She was an avid bingo player.
She leaves to cherish her memory, a daughter, Barbara (Clearence) Williams of Youngstown; 11 grandchildren; 20 great-grandchildren; two great-great-grandchildren; and a host of nieces, nephews other relatives and friends.
Besides her husband of 59 years, Rosber, whom she married July 3, 1940, and who passed away June 16, 2000, she was preceded in death by her parents; a son, Lawrence "Larry" Reed; a daughter, Ilene Reid Washington; two sisters, Stella Shaffer and Rose Cooper; and two brothers, Bill and Alfonso Crim.
Friends may call one hour prior to the services, from noon to 1 p.m. at the funeral home.
Guestbook Entries
"don juan"
"R.I.P. Ma Reed. You were a blessing to me, and I will never forget you."
» Donald Bryant on February 27, 2013
Albany, Ga.
"Barbara Ann and to the Reid family "Ma Reid" was a wonderful,beautiful and gracious women. May God keep all of you close at this time as well as forever more. Peace be with you."
» Chithea Summers-Robinson on February 27, 2013
"To THE REID FAMILY YOU HAVE MY DEEPEST SYMPATHY IN THE LOSS OF YOUR MOTHER MAY GOD BLESS YOU "
» Amelia Rogers on February 27, 2013
"To THE REID FAMILY YOU HAVE MY DEEPEST SYMPATHY IN THE LOSS OF YOUR MOTHER MAY GOD BLESS YOU "
» Amelia Rogers on February 27, 2013
"My deepest sympathy to the Reid family. I pray that God gives you the peace and blessings to help bring you through this time of sorrow. I enjoyed talking and visiting her. I have only known her for about 5 years but we became immediate friends. She was a sweet and thoughful, beautiful lady. I will trully miss her. "
» Shirley Griffin on February 27, 2013
"R.I.P Ma Reid"
» The McGeorge's on February 28, 2013
Cousins
"Barbara we loved Izora and we will miss her. We have known and loved her for over fifty years. Remember, she is in God's hands now. February 28, 2013"
» John & Mary Alice Cannon Familu Mil Wi on February 28, 2013
Sign the Guestbook
---