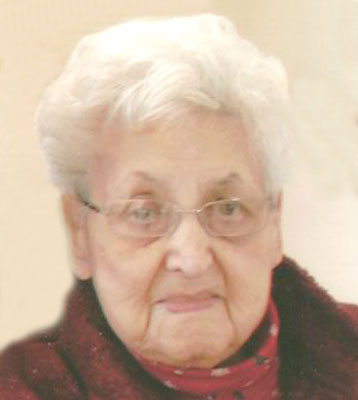 NEW MIDDLETOWN – Helen Vanusek, 96, peacefully passed away Monday evening, Feb. 25, 2013, at Masternick Assisted Living in New Middletown, surrounded by her family. A celebration of her life service will be held Friday, March 1, at 11 a.m. at the Poland Presbyterian Church, where she was a member.
Helen was born July 31, 1916, in Bethlehem, Pa., a daughter of John and Mary Strba Csulik.
Sadly, her father died when Helen was five days old and her mother and Helen moved to Sharon, Pa. Later, she was raised by her mother and stepfather, Nick Nemeth, and lived her young life in Sharon.
Her first husband, Steve Viczay, died in 1951 and her second husband, Andrew Vanusek, passed away in 1988.
Helen lived in Masury for 53 years and worked for the Department of Defense at the Ravenna Arsenal during World War II. Helen was very patriotic and loved her country. Her past husbands were veterans of World War II.
Helen was a fantastic cook and homemaker. Her hobbies were knitting and gardening. She spent many summers with her family and relatives at Pymatuning State Park and she traveled to the western United States, Grand Canyon, Canada and the Bahamas.
She also lived at Whispering Oaks in Hermitage, Pa. and Beeghly Oaks in Boardman. Helen spent her last three years at Masternick Memorial, where she loved to play bingo and listen to music. She knew every employee by name and all that knew Helen loved her.
Preceding Helen in death besides her parents and two husbands, were four sisters, Jane Huddleston, Belle Nemeth, Irene Ando and Margaret Demchak.
Surviving to cherish her memory, are a son, James (Leslie) Viczay of Poland; two daughters, Andrea (Gene) Koshan of Sugar Land, Texas and Susan (Daniel) Fusselman of Poland; five grandchildren, Stephanie (Shawn) Shimko of Warren, Michele (Scott) NeSmith of Brandon, Fla., Chris Koshan of Sugar Land, Andrew (Victoria) Fusselman of Cincinnati and Gregory Fusselman of Cleveland; two great-grandchildren, Korin Shimko and Shane NeSmith; three sisters, Mary Morris of Issaquah, Wash., Violet (John) Thomas of Hermitage and Adele (Carney) Stuhlmann of New Mexico; and a brother-in-law, John Demchak of Virginia.
Interment will be at St. John Orthodox Cemetery in Hermitage.
Helen's family would like to express their sincere appreciation for the wonderful care provided by the staff at Masternick Assisted Living.
Contributions may be made to the Poland Presbyterian Church, 2 Poland Manor, Poland, OH 44514.