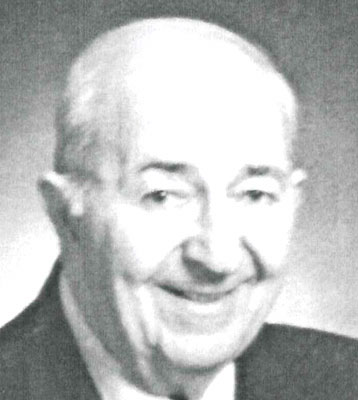 ANTHONY F. ROTUNNO
CANFIELD –  Prayers will be at 12:30 p.m. Friday, March 1, 2013, at the Lane Family Funeral Homes, Canfield Chapel, 65 Broad St. in Canfield, followed by a Mass of Christian Burial at St. Michael's Church, Canfield   for Anthony F. Rotunno, 86, who suffered a massive stroke on Feb. 15, and died on Feb. 26, at Hospice House, surrounded by family and friends.
He was the son of Lorenzo and Ingrinada Maria Stanco Rotunno. Anthony was born on Aug. 29, 1926, in Castel Baronia in the province of Avellino, Italy.
Mr. Rotunno was a graduate of Canton McKinley High School in Canton, where he lettered in four different sports and served as senior class president.  He was a inducted into the Canton McKinley Sports Hall of Fame. Although he was offered both academic and athletic scholarships to numerous universities, he selected the University of Kentucky, played four years of football under Coach Paul "Bear" Bryant, and graduated with a Bachelor of Arts in Political Science, a Masters in Education, as well as completed one year of law school.
He began his career as a teacher for the Canton Public School District, where he taught for five years before joining Nationwide Insurance as a claims adjuster, then a sales agent. He became District Manager, serving the Cleveland area and later Atlanta, which is where he met his wife. He returned to Ohio and continued working for Nationwide Insurance until he started Rotunno Insurance Agency in Canfield in 1970 from which he retired in 1988.
Anthony was a veteran of World War II, having served in the Pacific Theater. He was a member of the ITAM Club.
Anthony was an active member in both his church and community. He helped organize the Canfield Basketball Church League, where he served both as a coach and a referee. He was a member of St. Michael's Church in Canfield belonging to the Men's Club, where he had served as past president as well as serving as a long time usher. He was also a member of Christ Renews His Parish Renewal Team.
He was a charter member of the Canfield Lion's Club, where he served in many capacities, including King Lion. Anthony was an active member in the Canfield Little Cardinals organization for many years, serving as a coach, the announcer, as well as president of the board. As an avid golfer, Anthony was a member of the Canfield Men's Golf League for 35 years of which he served as president several times. He was a member of Canfield's 4th of July Committee, running the bocce tournaments for many years.
He is survived by his wife, the former Nelda Pickern, whom he married June 20, 1963, at the Cathedral of Christ the King in Atlanta; his children, Lawrence A. of Ste. Sault Marie, Mich., Jonathan A. of Canfield, Rhonda (Kevin) Brocious of Austintown, and Maria Rotunno of Canfield; and his grandchildren, Brianna and Anthony Brocious. He leaves his sister, Phyllis (Leroy) Vaught, and a brother, John Rotunno, both of Canton; a brother, Michael (Janet) Rotunno of Michigan. He is also survived by seven nieces and nephews; and 19 great-nieces and nephews.
He was preceded in death by his parents; his sister, Rose Bardarro; and a great-niece, Darcy Hamlin.
Friends may call on Thursday from 4 to 7 p.m. at the Lane Family Funeral Homes, Canfield Chapel.
Contributions can be made in his name to the Canfield Lion's Club or St Michael's Mens club.
Guestbook Entries
"Dear Maria and Family, I was sad to read of your father's passing. He lived a good, long and active life. May he rest in eternal peace and your memories become the comfort which helps the most. May God bless you all."
» Linda Tobin Blough on February 27, 2013
John
"It's a mammoth playground built of mountains, hills, lakes, rivers, valleys, woodlands,and beaches. edbeeadbecafddef"
» Smithc987 on September 22, 2014
Sign the Guestbook
---