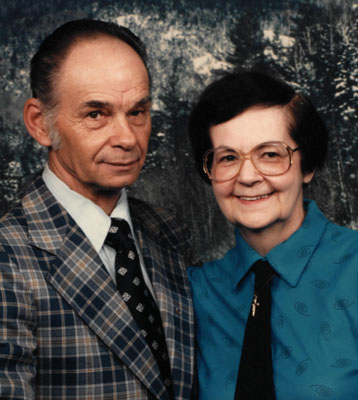 ALICE J. VENGLARCIK
"Together Again"
COLUMBIANA – Funeral services will be held on Thursday, Feb. 28, 2013, at 2:30 p.m. at the Kirila Funeral Home Inc. and at 3 p.m. at Christ Our Savior Parish, St. Nicholas Church for Alice J. Venglarcik, 90, who died on Monday, Feb. 25, 2013, at the St. Mary's Alzheimer's Center.
Alice was born Dec. 14, 1922, in Struthers, daughter of the late Andrew and Mary Litak Venglarcik.
She was a member of St. Nicholas Church, she worked at the Struthers Journal Newspaper as a writer from 1968 to 1980. Her articles were published in Time Magazine and she was the author of 14 novels and was a member of the Youngstown Writers Guild.
She is survived by her children, Barbara McBride in Poland, John S. (Margaret) Venglarcik III., M.D., in Poland, Katherine (Mark) Brammer in Canfield, and Tina (Joseph) Bokros in Poland; her son-in-law, Edward King of Struthers; and a sister, Eleanor Franko in Struthers. She is also survived by 13 grandchildren, Lisa (Gary) Miller, Timothy King, Robert (Francine) McBride, Randy (Casey) McBride, Ryan (Laura) McBride, Marci (Scott) Jakubec, Jessica (Gary) Drake, Carey Venglarcik, M.D., Dr. Mark Brammer, William Brammer, Dan (Heather) Brammer, Joseph Bokros and 12 great-grandchildren, Alex and Jacob Miller, Robert, Ian, Emily, Bridgette, Brendan, Madeleine, Colin, Patrick, Ethan McBride, Peter Drake, and Baby Brammer in May.
She was preceded in death by her husband, John S. Venglarcik Jr., whom she married Jan. 25, 1943, he died Nov. 29, 1989; her daughter, Carol King; and her son-in-law, Robert McBride.
Visiting hours will be held today, Feb. 27, 2013, from 5 to 7 p.m. at the Kirila Funeral Home Inc., 258 Poland Ave. in Struthers.
In lieu of flowers, donations can be made to St. Mary's Alzheimer's Center, 1899 West Garfield Road, Columbiana, OH 44408.
Guestbook Entries
"Hello Tina. I am so sorry to hear of your mother's passing. I remember her, your dad, Lisa, Joey and other family members from back in the late 70's and early 80's when you and I worked at Dollar Bank. (and Sybie too) May God Bless your family during these times. Alicia "
» Alicia Hunt Backus on February 27, 2013
Sign the Guestbook
---