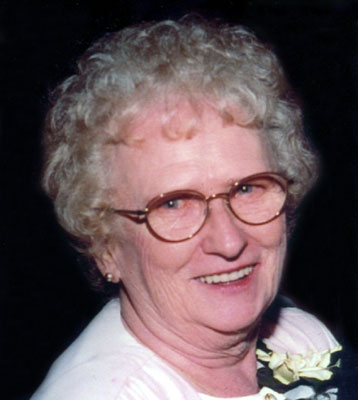 CATHERINE F. JUGENHEIMER
AUSTINTOWN – Funeral services will be held Thursday at 11 a.m. at the Higgins-Reardon Funeral Home, Austintown Chapel, for Catherine F. Jugenheimer, 82, who passed away Sunday afternoon at St. Elizabeth's Hospital.
Catherine was born June 23, 1930, in Youngstown, the daughter of James and Alice (Curtin) Ennett. 
After graduating from East High School in 1948, she worked as an elevator operator for Ohio Edison and later worked at Wedgewood Lanes and Eagles Aerie No. 3298. Catherine was a longtime member of the Austintown Eagles No. 3298. 
Her husband, Robert M. Jugenheimer, whom she married Sept. 9, 1950, passed away Nov. 20, 2004. 
Catherine is survived by two daughters, Peggy (Frank) Kaparic of La Mesa, Calif. and Debi (Jim) Hamilton of North Jackson; a son, Tim Jugenheimer of Austintown; a sister, Helen (Dick) Miller of Niles; six grandchildren, Jason (Toby) Jugenheimer, Samantha and Jimmy Hamilton, Jaime (James) Beaudis, and Vince and Mathew Kaparic; and two great-grandchildren, Grayson and Emerson Jugenheimer.
She was preceded in death by her brother, Arthur Ennett and her sister, Marge Norton. 
Family and friends may call on Wednesday from 5 to 8 p.m. at the Higgins-Reardon Funeral Home, Austintown Chapel.
The family has requested that memorial tributes take the form of donations to the Joanie Abdu Comprehensive Breast Cancer Center at St. Elizabeth's Hospital.
Guestbook Entries
LOVING NEPHEW.
"OUR PRAYERS &SYMPATHY FOR ALL THE FAMILY AT THIS SAD TIME ."
» ALBERT &DOROTHY ENNETT on February 26, 2013
"I am sad to see your mom passed. Now she can meet up with her friend Beverly Murphy my mom. We are in Florida for 3weeks.My prayers are with you at this time. We loved Katie"
» Peggy and Frank Bennett on February 26, 2013
Mrs. and Mr.
"I am sad to see your mom passed. Now she can meet up with her friend Beverly Murphy my mom. We are in Florida for 3weeks.My prayers are with you at this time. We loved Katie"
» Peggy and Frank Bennett on February 26, 2013
"Dear Peggy, We are so sorry to hear of the loss of your mom. Know that we are thinking of you. "
» John and Michelle Pimentel on February 27, 2013
"To the Jugenheimer Family, We are so sorry for the loss of your mother. We saw her last year when she attended the funeral of my mother in law.She was a good woman and will be missed dearly."
» Chuck and Rosanne Pritchard on February 27, 2013
"My sympathies for your loss. She was a dear friend of my grandmother, Mae Morgan. They worked together at the Eagles in Austintown. May God provide you peace during this time."
» Lori (Morgan) Kershner on February 27, 2013
"IM SO SORRY TO HEAR ABOUT YOUR MOTHER,SHE WAS A VERY KIND AND GIVING PERSON,I WILL NEVER FORGET THE FUN TIMES WE HAD AT THE LAKE WITH YOUR FAMILY - TAKE CARE"
» Terry Gething on February 28, 2013
"Debi, Peggy and Tim, I am so sorry to hear about your Mom. I have so many wonderful memories of her. She always had a way of bringing a smile to my face. I will keep all of you in my heart and prayers."
» Doreen Monroe (Sotack) on April 3, 2013
Sign the Guestbook
---