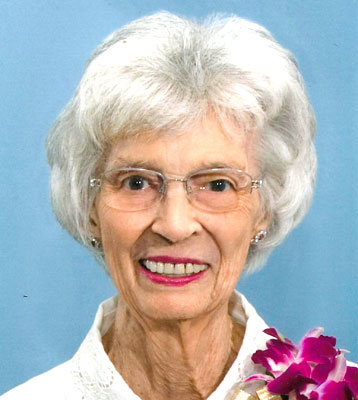 MARGARETTA 'MARNY' HOSACK JONES
ANNAPOLIS, MD. – Margaretta "Marny" Hosack Jones, 92, died on Feb. 16, 2013, in Annapolis, after a brief illness.
She was born July 27, 1920, in Pittsburgh, a daughter of John P. and Elizabeth Clingan Hosack, a descendent of the founders of Niles Fire Brick and Mahoning Valley Steel Co. She grew up in Niles and attended Hathaway Brown School in Shaker Heights and Connecticut College for Women.
She moved to Youngstown in 1941 after marrying William B. Jones, a grandson of G.M. McKelvey and later owner of Showcase Books & News in Warren. They raised their four children on Fairgreen Avenue and lived on Gypsy Lane for 40 years. In 2004, she moved to Annapolis to be near her daughters.
She was a member of the First Presbyterian Church of Youngstown for more than 50 years and also belonged to the Youngstown Country Club. She was active in many local civic groups, including Youngstown Hospital Women's Board, Junior League, Garden Club, Mahoning Valley Historical Society, Niles Historical Society, and Ohio Genealogical Society.
She was preceded in death by her husband, William B. Jones.
She is survived by her son, Tom Jones (Jane) of Seattle; daughters Trish Jones (Phil) and Trudy Coker (Charlie) of Annapolis, and Dori Yang (Paul) of Seattle; sister Sally Schaff; six grandchildren, Jenny Immel, Guen Goossen, Lance Jones, Brad Coker, David Coker, and Emily Yang; and six great-grandchildren.
Burial will be at Oak Hill Cemetery in Youngstown.
Services will be private.
In lieu of flowers, donations may be made to the First Presbyterian Church of Youngstown or the Niles Historical Society.
Please visit JohnMTaylorFuneralHome.com to make online condolences.
Guestbook Entries
"Thoughts of your wonderful mom and dad lift our spirits and warm our hearts. Keeping you all in our hearts and prayers. Love, Sherry and George."
» George McKelvey on February 24, 2013
"Dori & Family - My prayers and condolences to you and your family. Brenda Guilford Taylor"
» Brenda Guilford Taylor on February 25, 2013
"Thanks, Brenda and George, for your sympathy. Brenda - I'd love to be back in touch! doriyang at comcast dot net."
» Dorothy Jones Yang on March 5, 2013
Sign the Guestbook
---