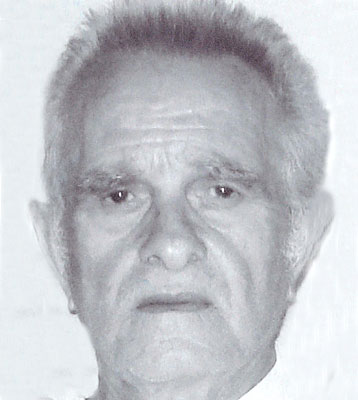 JOSEPH GALLO
GIRARD  – Joseph Gallo, 80, passed away Friday evening, Feb. 22, 2013, at Northside Hospital.
Joseph was born Oct. 1, 1932, in Nizza Sicily, Italy, the son of Emilio and Angela (Briguglio) Gallo.
Joseph worked for Brainard Rivet in Girard, where he was a screw machine operator.  He was a member of St. Rose Catholic Church, IFH in Girard, and the Knights of Columbus Council 2935 of Girard.
Joseph married Mary Infante.
Besides his wife, Mary, Joseph is survived by three daughters, Angela (Richard) Lohr of Howland, Brenda (John) Davey of Burghill and Linda Linville of Liberty; seven grandchildren, Johnny, Jamie, Bobby, Bryan, Ryan, Rees and Joey; and two great grandchildren, Gianna and Sophia.
Family will receive family and friends on Monday, Feb. 25, 2013, from 5 to 8 p.m. at the McClurkin Funeral Home in Girard.
There will be a Mass of Christian Burial held on Tuesday, Feb. 26, 2013, at 10 a.m. at St. Rose Catholic Church.  There will be prayers at 9:30 a.m. at McClurkin Funeral Home prior to the Church Mass.
Guestbook Entries
friend
"we will not be home in time for the funeral. how sad we are to read of Joe passing...............needless to say he was a great guy. A solid fixture on Lawrence ave.....he had a heart of gold.....thank's again for being such a great person.peace to all of your family....they are the lucky one's..anthony and maryellen patrone"
» tony patrone on February 24, 2013
Sign the Guestbook
---