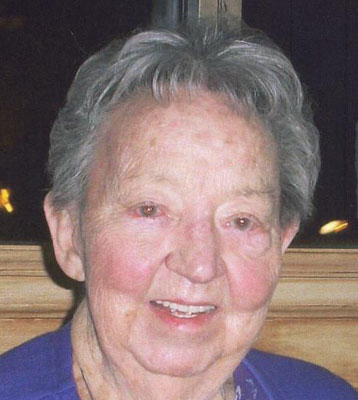 EILEEN SULLIVAN
BOARDMAN – There will be a Mass of Christian Burial celebrated by the Rev. Philip Rogers at 10:30 a.m. on Saturday at St. Charles Church for Eileen Sullivan, 86, who passed away Wednesday morning at Beeghly Oaks in Boardman.
Eileen was born April 28, 1926, in Youngstown, a daughter of Charles and Mary Scali Shea and was a life-long area resident. 
She graduated from Woodrow Wilson with the Class of 1944. She was a homemaker who loved spending time with her family, especially with her grandchildren and great-grandchildren.
Eileen was a long time member of St. Charles Parish. She was a Sweet-Adeline Singer and sang in St. Dominic's Choir.
Eileen's first husband, Robert Kelty, whom she married in 1946, died on Oct. 7, 1968, and her second husband, Russell Sullivan, whom she married in 1984, died on Nov. 29, 2003.
She will be greatly missed by her two sons, Bob Kelty Jr. of Knoxville, Tenn. and Jim Kelty of Boardman; four daughters, Patricia (George) Johnson of Poland, Joyce (Paul) Lettau of Boardman, Mary Lou (Terry) Hogan of Boardman and Susan (Jeff) Anderson of Palm Harber, Fla.; a sister, Mary McNally of North Lima; 17 grandchildren; and 14 great-grandchildren.
Besides her parents and her two husbands, Eileen was preceded in death by a son, Michael Kelty;  her two brothers, Charles and Gene Shea; and a grandson, Robbie Johnson.
Friends may call from 9:30 to 10:30 a.m. on Saturday at St. Charles Church in Boardman, one hour prior to the service.
The family wishes that any memorial donations be made in Eileen's name to Hospice House, 9803 Sharrott Road, Poland, OH 44514.
Family and friends may visit www.foxfuneralhome.org to view this obituary and to send condolences.
Guestbook Entries
Managers and Staff
"Our deepest condolences to you and your family. Our thoughts and prayers are with you."
» Elm Rd. Perkins on February 22, 2013
Management and Staff
"Our deepest condolences to you and your family. Our thoughts and prayers are with you."
» Elm Rd Perkins on February 22, 2013
""Our deepest condolences to you and your family. Our thoughts and prayers are with you." We are sorry we are unable to be with you all.God has a new Angel by his side, and to watch over each of you. "
» Jack & Karen Kelty on February 23, 2013
"I am so sorry for your loss. I cannot believe I missed the service. I will miss my "chocolate" talks with Eileen! She touched my life forever,"
» Lisa/Activities on February 23, 2013
Sign the Guestbook
---