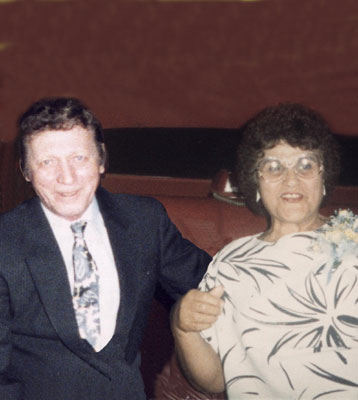 ANTONETTE BARBER
"Together Again"
STRUTHERS – A prayer service will be held on Saturday, Feb. 23, 2013, at 9:30 a.m. at the Kirila Funeral Home Inc. and a Mass at Christ Our Savior Parish, St. Nicholas Church held at 10 a.m. with the Rev. Bernard Gaeta officiating.
Antonette Barber passed away peacefully Wednesday evening, Feb. 20, 2013, with her loved ones by her side.
Antonette was born June 5, 1928, in Struthers, the daughter of William and Sarah (Gentile) Marr and was a lifelong area resident of Struthers.
She was employed with Stambaugh Building and Giannios Candy. She was an active member of St. Nicholas Parish and the Holy Rosary Society.
Antonette was an angel on earth, who would pray for everyone. She loved God and her family deeply, and cherished every single moment she had with her grandchildren and great-grandchildren. She will always be remembered for her wonderful cooking, especially her famous Chi Cha Dee (wedding) soup and homemade bread.
Her husband, Larry L. Barber, whom she married June 2, 1951, died July 11, 1998.
Antonette and Larry created a beautiful legacy together of a close knit family and she is now at peace to join him in paradise.
She leaves behind to hold on to her precious memories, her children, Joe (Cindy) Barber of Birch Run, Mich., David (Diane) Barber of Austintown, Dale (Ginger) Barber of Struthers and Jackie (Kevin) Stout of Struthers; eight grandchildren, Joe Jr. (Peggy) Barber, Amber (Eddie) Bonilla, Jason Barber, Dale Jr. (fiancé Jessica) Barber, Kevin Jr. (fiancé Lauren) Stout, Tony Barber, Eric Stout and Zachery Barber, also she considered Alexa and Amanda her grandchildren as well; three great-grandchildren, Antonio Bonilla, Vince Barber and Ellianna Bonilla; one brother, James (Roseanne) Marr; and two sisters-in-law, Viola Marr of Struthers and Fanny Marr of Niles.
In addition to those listed she was loved by all her nieces and nephews.
Besides her parents and husband, she was preceded in death by two grandchildren, Faith Stout and Jimmy Barber; and eight siblings, Katherine Muto, Mary Constantino, Tony Marr, Sam Marr, Frank Marr, Pedro Marr, John Marr and William Marr.
Friends may call today, Feb. 22, 2013, from 6 to 8 p.m. at the Kirila Funeral Home Inc., 258 Poland Ave. in Struthers.
Burial will take place at St. John Cemetery in Coitsville Township.
"When someone you love becomes a memory, the memory becomes a treasure."
Please visit www.kirilafh.com for more information.
Guestbook Entries
"We are so sorry for the loss of your mom she was such a lovely person, just know you and your family are in our thoughts and prayers."
» Eddie Miranda & Family on February 22, 2013
"so sorry for your loss. I will always remember her delicious baked goods."
» Lester & Barb Pfaff on February 22, 2013
"Her passionate love for God and others shined through brightly."
» Shawn George & Family on February 24, 2013
Sign the Guestbook
---