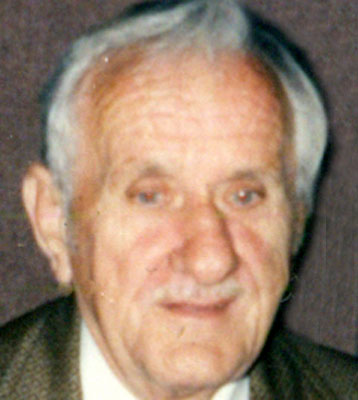 JOSEPH M. GALOVICH
LIBERTY TOWNSHIP – Joseph M. Galovich, 87, passed away Friday Feb. 15, 2013, at St. Elizabeth Health Center.
Joseph was born Feb. 12, 1926, in McDonald, the son of the late George and Anna Grgurich Galovich.
He owned and operated National Auto Sales on Belmont Avenue for many years. He was a U.S. Navy veteran of World War II and a member of St. John's Episcopal Church in Youngstown.
Joseph was a social member of the Saxon Club, loved cars, traveling to Florida in his motor home, mowing his lawn and his beloved dog "Butchie."
He is survived by his wife, the former Martha Suit, whom he married July 19, 1947; his brother, George Galovich of Niles; nieces Linda (Paul) Kardos of Pennsylvania, JoAnne (Michael) Rappach of Brookfield and Patty Durig of Girard; nephews Sonny (Karen) Durig of McDonald and George Durig of Girard; 11 great-nieces and nephews; and five great-great-nieces and nephews.
He was preceded in death by his sister, Katherine Durig, and brother-in-law Sherman; sister-in-law Mae Galovich and niece Debbie Durig.
Funeral services will be held on Monday, Feb. 18, at noon at the Blackstone Funeral Home in Girard, where the family will receive relatives and friends one hour prior to the service.
Interment will take place at Belmont Park Cemetery.
Visit www.blackstonefuneralhome.com to view this obituary and to send condolences to the Galovich family.
Guestbook Entries
« Be the first to sign JOSEPH M. GALOVICH guestbook.
---