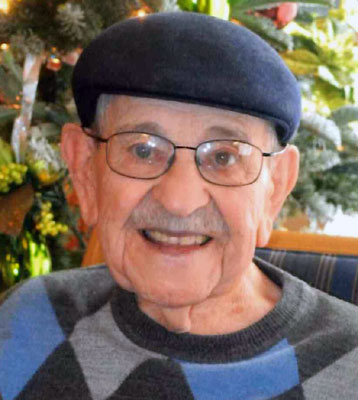 JOHN N. OPRITZA
AUSTINTOWN – Funeral services will be at 11 a.m. Monday at the Western Reserve Community Church for John N. Opritza, 93, who passed away Friday morning at Brookdale Clarebridge Cottage Assisted Living.
John was born Jan. 29, 1920, in Youngstown, a son of the late Nicholas and Anna (Besoiu) Opritza.
A U.S. Navy veteran of World War II, John owned his own truck and later owned and operated Automotive Equipment Service. John retired in the early 1990s as Vice President of Dart Trucking in Canfield after many years of service.
He was a member of the Western Reserve Community Church and the Lake Milton Boat Club for over 30 years.
As a child, John was a member of the Old Christ Mission and Boy Scouts. These organizations are where he obtained his deep religious beliefs.
John loved his grandchildren and never missed any of their sporting events.
His wife, the former Mary Lou Marrie, whom he married Nov. 22, 1952, passed away Nov. 21, 2006.
John will be sadly missed by his daughter, Nancy (Angelo) LaCivita of Boardman; one brother, Dan Opritza of Warren; two grandchildren, Michael John Maiorana and Lisa Ann Maiorana; and several nieces and nephews.
Besides his parents and wife, John was preceded in death by two sisters, Pauline Wise and Ann Smith; and a brother, Nick Opritza.
Memorial contributions may be made to the Disabled American Veterans in John's name.
Friends may call from 3 p.m. until 5 p.m. Sunday at the Western Reserve Community Church and from 10 a.m. until 11 a.m. prior to the services on Monday at the church.
The Lane Family Funeral Homes, Austintown Chapel has been entrusted to handle the arrangements.
Family and friends may visit www.lanefuneralhomes.com to view this obituary and send condolences.
Guestbook Entries
"To Pastor Nancy and all the family,May Gods peace that surpasses all understanding comfort you in this time for the loss of John.He was such a sweet spirit and I am happy to have had the honor of knowing him.My prayers are with you all!!"
» Sandee Percic on February 16, 2013
"To Pastor Angelo and Pastor Nancy, sending our most deepest symphaty, compassion to the whole family at this time,it not only was a true HONOR, but a true PRIVILEGE to have know "John Opritza", but a real gem, he was one of the truly, and finest men to have known in our lifetime. "
» Michael & Glaydas Lewis on February 16, 2013
"John was one of my father's best friends. I remember fishing trips in Canada with him, and the fact he was always there for my dad, Paul, as they entered a new career in business and life..God bless you, John..Our deepest sympathy to the family..David Baringer and Family."
» David Baringer on February 16, 2013
Sign the Guestbook
---