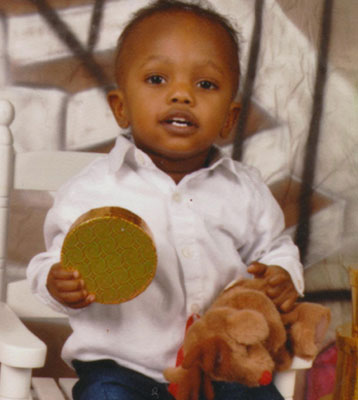 INFANT JIMMEL MILTON
YOUNGSTOWN – Services will be at 11 a.m. Monday, Feb. 18, 2013, at the Elizabeth Missionary Baptist Church, for Infant Jimmel Milton, 1, whom God summoned home to be with Him, after allowing him a short stay with his earthly parents.
Jimmel was born Aug. 24, 2011, in Youngstown, the son of LaKisha Milton and Jimmie Pearce and became God's Little Angel on Feb. 11, 2013.
Jimmel was a very loving child and had a very special smile that would brighten your day. He also loved to give a very tight hug even when you didn't ask for one. He always showed love to his loved ones and was his parents pride and joy.
He leaves to cherish his memory, his parents and stepfather who helped rear him, Gabriel Mobley; three brothers, Elijah Redding of Wilmington, Del., TaShawn Williams and RaShawn Trimble of Youngstown; grandmothers Rosa Glover and Lizzie Pearce; grandfather Allen Milton of Columbus; great-grandmothers Ester Crum and Mattie Greene; uncles Allen Johnson, Alberto and Kenneth Law and Marice Pearce, all of Youngstown; and two aunts, RaJade Boone of Wilmington, and Keisha Pearce of Youngstown.
He was preceded in death by his grandfather, Jimmie Blackman; great-grandfather Clarence Greene; two uncles, Allen Milton Jr. and Kendall Glover; and an aunt, Ronette Pearce.
Friends may call one hour prior to the services, from 10 to 11 a.m. at the church.
Arrangements entrusted to the L.E. Black, Phillips and Holden Funeral Home.
Guestbook Entries
"My great nephew your auntie never got the chance to meet you.I love you and will look for you when i get to heaven.Jimmie be strong and I love you I may not be there in body but I,m with you in spirit.I love you"
» Doris Blackmon Green on February 16, 2013
"Mommy misses u so much & love u so much. still i cant believe ur gone but I do knw Ur my lil angel Rest in heaven baby see u soon!!"
» lakisha on April 15, 2013
Sign the Guestbook
---