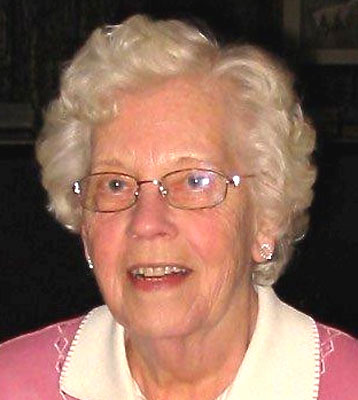 GERTRUDE 'GERT' ULAM
CHAMPION – Services will be held Saturday at 11:30 a.m. at the Peter Rossi & Son Memorial Chapel in Warren with Fr. Tim O'Niell for Gertrude "Gert" Ulam, 90, who passed away Tuesday, Feb. 5, 2013, at her son's residence.
Gertrude was born July 28, 1922, in Meadville, Pa., the daughter of William and Gertrude A. Irlam.
She came to the Warren area in 1941 following her marriage to Richard J. Ulam and retired from Klingemier Sparkle Market in Champion as a service center manager after 10 years. She previously worked at Lordstown Depot as the motor pool supervisor during World War II.
She was a member of St. William Church and enjoyed oil painting, gardening, candy making and bowling.
Gertrude is survived by her children, Sandee (David) Hardman of Hartford, Carol (Kenneth) Yarwick of Howland, Sue (Terry) Stinedurf of Champion, Nancy (Dan) McCarthy of Columbia, Md., and Rick (Debbie) Ulam of New Springfield; grandchildren Chris, Heather, Aimee (Matt), Tracee, Stacee (Travis), Stephen, Lauren and Richard N.; and three great-grandchildren, soon to be four.
She was preceded in death by her parents; husband Richard J. Ulam, who passed away June 27, 1972; sister Hilda Howell; and two brothers, William and Arnold Irlam.
Family and friends may call Friday from 6:30 to 8:30 p.m. and Saturday from 11 to 11:30 a.m. at the Peter Rossi & Son Memorial Chapel in Warren.
Entombment will be at All Souls Cemetery, Cortland, following the service.
In lieu of flowers, contributions may be made to the National Law Enforcement Officers Memorial Fund (NLEOMF), 901 E. St. NW, Suite 100, Washington, D.C. 20004.
Guestbook Entries
« Be the first to sign GERTRUDE 'GERT' ULAM guestbook.
---