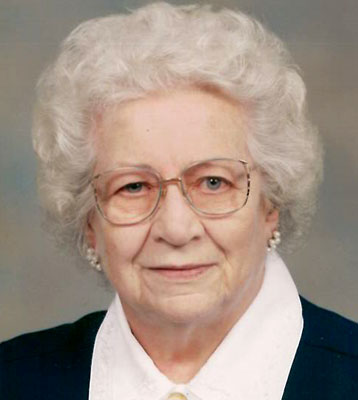 HELEN MARGARET JORDAN
POLAND - Helen Margaret Jordan went home to be with the Lord Saturday morning at Hospice of the Valley, Hospice House.
Helen was born June 14, 1914, in North Lima, a daughter of Clark and Elizabeth Lehman Wisler.
A 1932 graduate of North Lima High School, Helen attended beauty school and became a beautician. She owned and operated her own salon until she began raising her family.
Helen was a former member of the Good Hope Lutheran Church in North Lima where she was a long-time Sunday school teacher, sang in the choir, and was active in the church's women's organizations. She later became a member of the Calvary Assembly of God and was a member of its Senior Citizens. Helen was currently a member of the Cornerstone Assembly of God and also attended the Poland Village Baptist Church with her daughter.
Helen was very generous and kind and always put the needs of her family and friends first. When someone was in need, she provided, and she was a huge supporter of missionaries.
Helen loved to cook for family, friends and her church. She would sew her children's clothing from scratch and even became a 4-H leader for 11 years. At the age of 73, Helen began to travel with her family and experienced wonderful adventures in the United States and Europe.
Helen's husband, Lester Jordan, whom she married May 23, 1948, died Sept. 16, 1988.
She leaves one daughter, Barbara Sierp, with whom she made her home in Poland; one son, Thomas (Audrey) Jordan of Canfield; one granddaughter, Jill (Steve) Jordan Jaeger of Gulf Port, Fla.; three grandsons, Nathan (Whitney) Jordan of Saratoga Springs, N.Y., David Keeler of Poland, and Robert (Emily) Keeler of Grovesprings, Mo.; and three great-grandchildren, Allysen and David Keeler Jr., and Patrick Jaeger.
Besides her parents and husband, Helen was preceded in death by her daughter, Rebecca Keeler; son-in-law, Terry Lee Sierp; and two brothers, Wilbur and Elvin Wisler.
Services will be held Tuesday at 11 a.m. at the Cunningham-Becker Funeral Home, Poland, with Pastor Brian Ethridge officiating.
Friends will be received on Tuesday from 10 to 10:45 a.m. at the funeral home.
Helen's family request gifts take the form of contributions to Hospice of the Valley, Hospice House, 9803 Sharrott Road, Poland, OH 44514.
Please visit www.beckerobits.com to send condolences.
Guestbook Entries
« Be the first to sign HELEN MARGARET JORDAN guestbook.
---