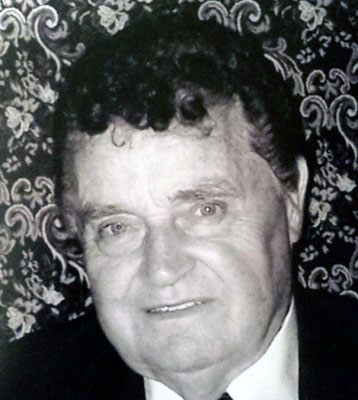 MARINO PELLEGRINI
YOUNGSTOWN - Prayers will be held Wednesday at 9:15 am at the Higgins-Reardon Funeral Homes, Austintown Chapel, followed by a Mass of Christian Burial at 10 am at St. Anthony of Padua Parish, for Marino Pellegrini, 89, who passed away Saturday evening at Shepherd of the Valley.
Marino was born Sept. 23, 1924, in Arezzo, Italy, a son of the late Domenico and Giovanna (Verrazzani) Pellegrini. He came to the United States in 1955.
Marino was a member of the Italian Navy in World War I and was a prisoner of war for five years. He was on the police force in Italy and also worked in the coal mines in Nice, France. When Marino came to the United States, he worked on the railroad, was a painter and worked for Hynes Steel until he retired in 1986. Marino also worked at his son's pizza shop, Wedgewood Pizza in Boardman part-time.
Marino was a member of St. Anthony Church. He enjoyed hunting, walking, and gardening. When he was growing up in Italy, he loved to snow ski in the Italian Alps.
His wife, the former Mary DeArcangelis, whom he married Sept. 15, 1955, in San Giovanni DiLaterno Basilica in Rome, Italy, passed away March 17, 2008.
Marino leaves his two sons, Dominic "Dino" (Michelle) Pellegrini of Mineral Ridge, and Anthony (Pauline) Pellegrini of Diamond; five grandchildren Marino, Dominic "Dino," Joseph, Michael, and Nick; and a great-grandson, Liam.
Marino was also preceded in death by three sisters, Emma, Lina, and Piera.
The family would like to extend their sincere thanks to Dr. Robert Spratt for his compassionate care and friendship, and also to the staff of Shepherd of the Valley in Boardman for their kindness.
Family and friends may call on Tuesday from 3 to 7 p.m. at the funeral home.
Material tributes may take the form of donations to Hospice of the Valley 5190 Market Street Boardman, OH 44512.
Guestbook Entries
MR.
"GOD BLESS MARINO, a wonderful man, husband, father and cousin!!"
» FRANK MATTUCCI on December 9, 2013
Batista and Filomena DeArcangelis grandaughter
"Deepest sympathy to your family. I remember Marino, Mary and the boys, very, very fondly on our family trips to Youngstown. His sweet smile and beautiful eyes will be missed. Thinking of you and saying prayers. RIP Marino"
» Julia Mattucci-Clark on December 9, 2013
"My thoughts and prayers are with you."
» Marie Antolak on December 9, 2013
"We're thinking of you during this difficult time. God will give you the comfort and strength when you need it most."
» Debbie & Butch Chinn on December 10, 2013
"May God bless the entire Pellegrini family during this difficult time; I will always remember Mr. Pellegrini as a great man."
» Bill Prokopyk on December 10, 2013
"Sending prayers to the family. I am sorry I could not attend calling hours or funeral, as I am out of town. Hoping all your wonderful memories will help all through the difficult times. "
» Cathy Conroy on December 11, 2013
Sign the Guestbook
---