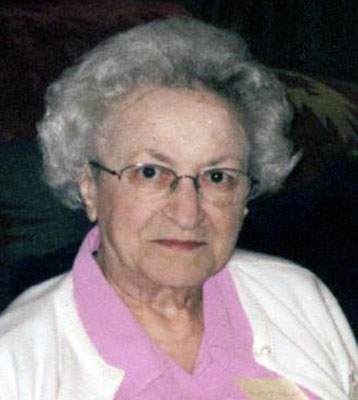 VINCENZA M. PARIS
YOUNGSTOWN – There will be a Mass of Christian Burial held on Friday, Aug. 23, 2013, at 1 p.m. at the Our Lady of Mount Carmel Church in Youngstown, with the Very Rev. Msgr. Michael J. Cariglio officiating, preceded by a 12:10 p.m. prayer service held at the Rossi & Santucci Funeral Home, 4700 Market St. in Boardman for Vincenza M. Paris, 94, who passed away Tuesday afternoon with her family by her side.
She was born Aug. 18, 1919, in Youngstown, a daughter of Joseph and Nancy Cruciana Mandoline, and was a lifelong area resident.
Vincenza graduated from East High School, was a homemaker and a member of Our Lady of Mount Carmel Church.
She loved gardening and sewing, but most of all spending time with her family.
Her husband, Michael Paris, whom she married June 8, 1946, died Nov. 17, 1993, celebrating 47 years of marriage.
She leaves behind to treasure her memories, her two sons, Michael (Beverly) Paris of Austintown and John (Mary Ellen) Paris of Youngstown; three daughters, Nancy (William) Terlesky of Youngstown, Janet (Eric) Grimm of Columbiana and JoAnn Ginnis (John Craig) of Youngstown; a sister, Susie Mandoline of Youngstown; 11 grandchildren; and 13 great-grandchildren.
Besides her parents and husband, she was preceded in death by a brother, Julius Mandoline.
Friends may call on Friday from 10:30 a.m. until 12:10 p.m. at the Rossi & Santucci Funeral Home, 4700 Market St. in Boardman.
The family asks that any monetary donations be made in Vincenza's memory to Southern Care Hospice of Youngstown, 5401 Ashley Circle, Austintown, OH 44515.
Family and friends may visit www.rossisantuccifh.com to view this obituary, sign the guest book, and to send condolences to Vincenza's family.
Guestbook Entries
Sign the Guestbook
---