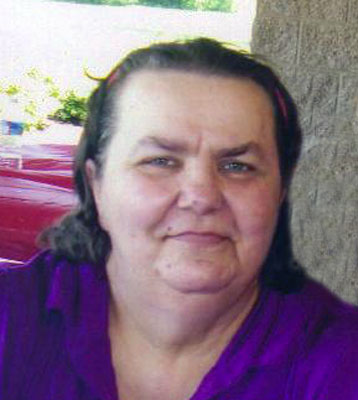 RUTH M. COSTELLO
POLAND - There will be a funeral service held on Friday, Aug. 23, 2013, at 1 p.m. at the Rossi & Santucci Funeral Home, 4700 Market St., Boardman, with Pastor Joyce Lawson officiating, for Ruth M. Costello, 56, who passed away Tuesday morning, Aug. 20, 2013, after a three-year courageous battle with cancer.
Ruth will always be remembered and loved by her family and friends.
She was born Jan. 9, 1957, in Youngstown and was raised in New Springfield, the daughter of Harold M. Sr. and Virginia J. (McCoy) Costello.
Ruth attended Springfield Local High School and was of the Lutheran faith.
She was employed for over seven years with Classic Bakery, helping them with sales, decorating cookies and whatever needed to be done, along with being a proud homemaker.
She was very talented in making and doing crafts, through needle work, crocheting, drawing and sewing which was a large part of her life. Ruth was always happy when she would be making items for her family, especially all her son's Halloween costumes.
Ruth truly loved spending time with her family. She enjoyed all those lunch and breakfast dates with her sisters, the family cookouts, along with playing and teaching her granddaughters how to draw.
She leaves behind to hold on to her precious memories, a son, Lance (Shannon) Costello of Poland; two granddaughters, Destiny and Lacie; a brother, Patrick F. (Sandra) Costello of Petersburg; four sisters, Shirley Ann Miles of Kentucky, Jacquelyn L. (John) Giannios of Poland, Carol (Joseph) Damore of Youngstown and Karen Kunder of North Carolina; many nieces and nephews; and numerous great-nieces and nephews.
Besides her parents, Ruth was preceded in death by a brother, Harold M. Costello Jr.; and an infant brother, Baby Boy.
Friends may call on Friday, Aug. 23, 2013, from noon until 12:50 p.m. at the Rossi & Santucci Funeral Home, 4700 Market St. Boardman.
Burial will take place at Lake Park Cemetery in Youngstown.
Family and friends may visit www.rossisantuccifh.com to view this obituary, sign the guest book or send condolences to the Costello family.
Guestbook Entries
Lets go on a bike ride in heaven
"Now we can ride out bikes together"
» Youngstown poland road on May 20, 2017
sister
"Ruthie --- We all love you and will miss you a great deal. But your up there with God and with both of our parents,with my triplet (brothers) Harold - Baby Costello. Remember to say HELLO. You have no more pain and you can rest in peace. I will miss the crochet towels and the crafty things that you did. Keep making them. We will all meet again in Heaven. There will always be flowers there at Lake Park. Love your, Sister Carol Jane"
» carol on August 22, 2013
"Ruthie, you may now rest in peace but knowing you, you will be icing cookies or making some adorable crafty item for our next holiday. you will be missed by me. you always made me laugh when I needed it most. Rest now dear friend."
» kathy edwards on August 23, 2013
sister
"Well we said our Goodbye's today. Rev.Lawson did a fantastic job. That's after Jackie, Me, Shannon had to tell a few stories about when we were growing up. But one question - we need to know the answer too--is why did you only put $3.00 in your car. I guess we'll won't know the answer, till we meet you there in "The Garden"(Heaven) Love Sis. cjd"
» carol jane on August 23, 2013
Sign the Guestbook
---