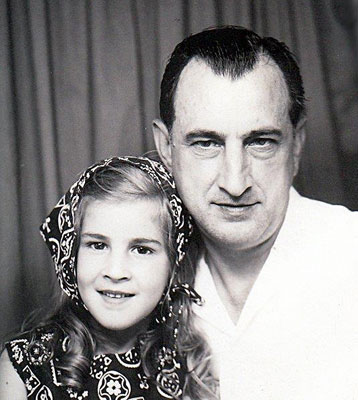 MARTIN G. KALMER
"Father and Daughter Together Again"
YOUNGSTOWN - Martin G. Kalmer, 88, of the city's west side, passed away Saturday afternoon, Aug. 17, 2013, with his family by his side following a year-long illness.
Marty was born Feb. 8, 1925, in Youngstown, a son of the late Joseph and Caroline Dora Kalmer, and was a lifelong area resident.
He served in the U.S. Army during World War II, and afterwards, began his career as an automobile mechanic, specializing in air conditioning and radiator repair, working at Johnny's Radiator on Elm Street. He then worked at John and Marty's Radiator on North Meridian Road, with his brother, Johnny, and then worked at Valley Pontiac. He finished his career owning and operating Marty's Radiator on Mahoning Avenue in the late 1970s and 1980s, until he retired.
Mr. Kalmer was a member of St. Christine Church in Youngstown.
He was an accomplished pilot, and he loved to fly his airplane whenever he could. He also immensely enjoyed the time he spent with his family and friends, especially his grandchildren and great-grandchildren.
"If you knew him, you loved him."
Marty leaves behind to hold on to many happy memories, his wife of 66 years, Lucy Pasku Kalmer, whom he married Oct. 19, 1946; a daughter, Carol "Cookie" Joseph of Youngstown; a son, Martin G. Jr. (Bobbi) Kalmer of Austintown; four grandchildren, Michelle Ragan Houlihan of Washington, D.C., Sheree (Travis) Green of California, Martin D. Kalmer of Cortland, and Victoria Kalmer of Austintown; three great-grandchildren, Jordyn, Blake, and Brodan, each of California; and two sisters, Margaret Pecchio of Youngstown and Julie Skarosi of Greenville, Pa.
A daughter, Pamela Jean Kalmer; three sisters, Annie Balog, Mary Evonavitz, and Caroline Henerfo; and three brothers, Johnny, Frank, and Joe Kalmer, are deceased.
Family and friends may call from 9 to 10 a.m. on Saturday, Aug. 24, at St. Christine Church on South Schenley Avenue in Youngstown, where a Memorial Mass will be celebrated at 10 a.m., with the Rev. John Keehner officiating.
Interment with military honors will follow at Calvary Cemetery in Youngstown.
Marty's family thanks the great many people who loved and cared for him. His family also asks that those who interacted with Marty, remember a special moment shared with him, and smile with love in your heart.
Arrangements were entrusted to Kinnick Funeral Home, 477 N. Meridian Road, Youngstown.
Visit kinnickfuneralhome.com to view this obituary and to send condolences online to Mr. Kalmer's family.
Guestbook Entries
Friend
"Gods speed to the family my heart goes to you all. You are in my thoughts and prayers"
» Dave Justine on August 22, 2013
bev williams
"My prayers and thoughts are with you at this time"
» friend on August 22, 2013
"Deepest condolences to Carol and her family on the passing of Mr. Kalmer. God bless, Darrel Joseph, Vienna, Austria"
» Darrel Joseph on August 22, 2013
"Our thoughts and prayers are with Marty and his family."
» Larry and Lori Senvisky on August 22, 2013
"Our thoughts and prayers are with Marty and his family."
» Larry and Lori Senvisky on August 22, 2013
"Our thoughts and prayers are with Marty and his family."
» Larry and Lori Senvisky on August 22, 2013
NIECE
"MY THOUGHTS AND PRAYERS ARE WITH YOU AUNT LUCY AND FAMILY. I HAVE MANY HAPPY MEMORIES OF YOU AND UNCLE MARTIN LOVE MARY ANN"
» MARY ANN BANNON on August 22, 2013
Niece
"Dear Aunt Lucy, Cookie & Marty, i am unable to attend Saturday to pay my respects however please know my thoughts and prayers are with you all at this time. Love, Bethy"
» Beth Halase Valerio on August 23, 2013
"Marty and Bobbi: We could not come to the funeral but our thoughts and prayers are with you. Our love and prayers for Lucy. Love, May and Rick"
» Rick and Mary Smith on August 24, 2013
Sign the Guestbook
---