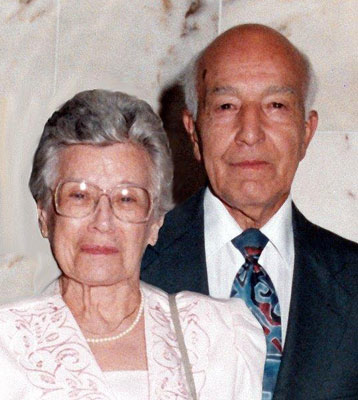 HELEN H. PASTORE
"Together Again"
CANFIELD - Helen H. Pastore, 91, formerly of Chapel Hill Drive in Youngstown, passed away Tuesday evening, Aug. 20, 2013, at her home with her family by her side.
Helen was born Oct. 31, 1921, in Youngstown, a daughter of the late Leon and Anastasia Mural Nicholson, and was a lifelong area resident.
She was a graduate of Woodrow Wilson High School, and became a homemaker who dedicated her adult life to raising and caring for her family. In her younger days, she worked as a waitress at her brother's Nicholson Dinette, and she also worked for United Optical.
Mrs. Pastore was a long-time member of St. Brendan Church in Youngstown, the church's Altar & Rosary Society, and she was a volunteer at St. Elizabeth Health Center.
She enjoyed traveling with her husband during their retirement years, and was her husband's caregiver during his illness. Her husband of 60 years, Joseph A. Pastore, whom she married Sept. 17, 1949, passed away March 19, 2010.
Helen leaves two daughters, Carol J. (Michael) Watkins of Sheridan, Wyo. and Diane Pantelis (Ray Hrina) of Canfield, with whom she made her home; two grandchildren, Dr. Joseph Pantelis and his wife, Dr. Kerry Will of St. Louis and Nick Pantelis of Youngstown; and a brother, Michael Nicholson of Poland.
Helen will be truly missed by all who knew and loved her.
Besides her husband, four brothers, Rudolph, Barney, Walter, and Frank Nicholson, and a sister, Katherine Nicholson, are deceased.
Family and friends may call from 6 to 8 p.m. on Friday, Aug. 23, at Kinnick Funeral Home, 477 N. Meridian Road, Youngstown.
Funeral services will begin at 9:15 a.m. on Saturday at the funeral home, and continue with a Mass of Christian Burial to be celebrated at 10 a.m. at St. Brendan Church, 2800 Oakwood Ave. in Youngstown.
Interment will follow at Calvary Cemetery, where Helen will be laid to rest next to her husband.
In lieu of flowers, memorial contributions may be made in Helen's name to the St. Brendan Church Memorial Fund.
Visit kinnickfuneralhome.com to view this obituary and to send condolences online to Helen's family.
Guestbook Entries
"I will always treasure my memories of my God-Mother, my Aunt Helen. Now she's up in heaven with my Uncle Joe and together with my parents Loretta and Jim Delpha, having a lovely time like they did in the old days."
» Lori Delpha Welsh on August 23, 2013
"Nick and Diane, My deepest sympathy for the loss of your Mother and Grandmother. May she rest in peace. Love and God Bless, Bev Donofrio and son, Tom Neapolitan "
» Beverly Donofrio on August 23, 2013
Cousin
"Dear Carol & Diane, so sorry in the passing of your lovely mother. We were unable to attend services but our thoughts and prayers are with you. Ray and Judy Donadio"
» Judy Donadio on August 24, 2013
Sign the Guestbook
---