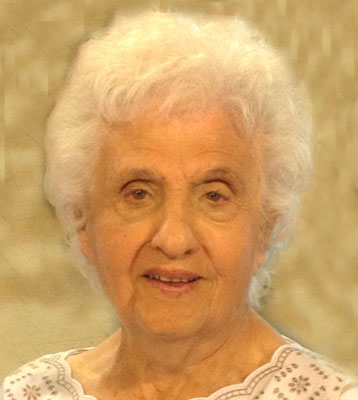 ANNE M. SPANO
POLAND – There will be funeral services at 9 a.m. on Saturday, Aug. 24, 2013, at the Rossi Brothers & Lellio Funeral Home in Boardman, followed by a 10 a.m. Mass of Christian Burial at Christ Our Savior Parish at St. Nicholas Church in Struthers for Anne M. Spano, 90, who passed away Wednesday, Aug. 21.
Anne was born July 9, 1923, in Belltown, Pa., the daughter of Antonio and Liberta (Delsignore) Gentile.
She was a homemaker and Member of Christ Our Savior Parish.
Her husband, John Spano, whom she married in 1945, passed away July 4, 1978.
Anne was very family oriented, never missing any of her children's activities. She was a very loving mother and grandmother.
She will always be remembered by her four children, John (Barbara) Spano of Poland, Linda Roloff of Naples, Fla., Bill (Karen) Spano of Tennessee and Bob (Darlene) Spano of Naples; nine grandchildren, John (Jill) Spano, Kim (Jim) Vivacqua, Bob (Meg) Roloff, Mark (Priya) Roloff, Kelly (Dan) Hartley, Michelle, Anthony, Bob, and Michael Spano and Jim (Heather) Spano; nine great-grandchildren; and two brothers, Joe (Eleanor) Gentile and Pat (Honey) Gentile.
Besides her parents and husband, Anne was preceded in death by her brothers and sisters.
Friends may call on Friday, Aug. 23, 2013, from 4 to 7 p.m. at the Rossi Brothers & Lellio Funeral Home, 4442 South Ave. in Boardman.
The Spano family respectfully requests that material contributions be made in Anne's name to Hospice of the Valley, 5190 Market St., Boardman, OH 44512.
Family and friends may visit the Book of Memories at www.rossifunerals.com to view this tribute and to send condolences to Anne's family.
Guestbook Entries
Teacher and friend
"Linda, Bob, Kelly,and family, You're in my thoughts and prayers during this time. I'm asking God to comfort you, and give you strength and peace at this difficult time. God Bless, Mame"
» Mame Amodio on August 22, 2013
"May your love and family bring you peace at this difficult time! Your all in our prayers and thoughts"
» Guzak (Kesler) on August 26, 2013
"My thoughts and prayers are with you and your family!"
» Shirley Gentile on September 19, 2013
Sign the Guestbook
---