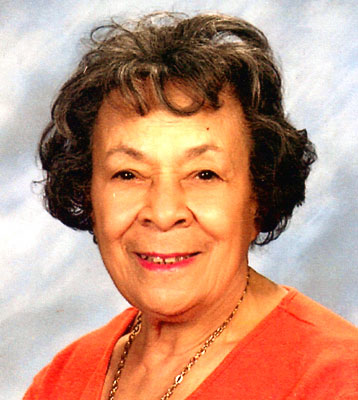 ATLANTA – Vivian LaVera Hunt Prisby was born on Sept. 14, 1921, in Cleveland. She was the second daughter of Leroy Drake Hunt and Zorah Wilkerson Hunt.
Vivian met and married the love of her life Mr. Russell Earl Prisby on April 27, 1940, and from this union they had three beautiful daughters.
Vivian attended Kent State University and later worked for the Strouss Company from which she retired after over 30 years of service.
Vivian's pride and joy was her family. She was a proud and loving wife, mother, grandmother and great-grandmother.
Vivian was devoted to the Episcopalian faith and an avid member of her beloved church, St. Augustine's Episcopal Church. She also enjoyed an active social agenda with a special association as a member of the "ONT's" and the "I Double You's" Bridge Club. Vivian also loved her T.O.P.S. friends with whom she interacted for many years.
Vivian recently relocated to Atlanta. Her daughters, Jan and Tracie, were her primary caretakers until her transition.
Vivian leaves to cherish her loving memory, her daughters, Jan Prisby Bryson (Dwayne E. Heard) and Tracie Ann Prisby; Albert Grove, whom she loved like a son; four grandchildren, Leslie Powers (Ted) of St. Louis, Russell Thacker (Yvonne) of South Carolina, India Prisby of Atlanta, and Byron Bryson of Los Angeles; six great-grandchildren, Michael, Erin and Daniel Powers of St. Louis, Aaliyah Thacker of South Carolina, Dale E. Kennedy III and, King J. Mitchell of Atlanta; two sisters-in-law, Gretchen McCullum of St. Louis and Helen Prisby of Youngstown; two special nieces; and a special nephew, Janet Allmond, Marilyn Swann (David) and Hayes Jackson (Awilda), all of the Cleveland area; and dear friend, Dr. Henry Holden and the Holden Family.
Other grandchildren and family include four Thacker grandchildren and their spouses of Atlanta, Jordan Heard of Atlanta, Taylor, Sydney and Trenton Heard, all of Chicago, and Blair Bryson of Las Vegas; the Witherspoon family of Philadelphia; and a host of other nieces, nephews and dear friends.
Vivian was preceded in death by her parents; husband Russell; daughter Sandra J. Thacker; son-in-law, Floyd O. Thacker; sister Sylvia Jackson, and brothers-in-law William Jackson and Raymond Prisby.
Friends may call Saturday from noon to 1 p.m. at the L.E. Black, Phillips & Holden Funeral Home, where funeral services will follow at 1 p.m.
Interment will take place on Monday at the Tod Homestead Cemetery.