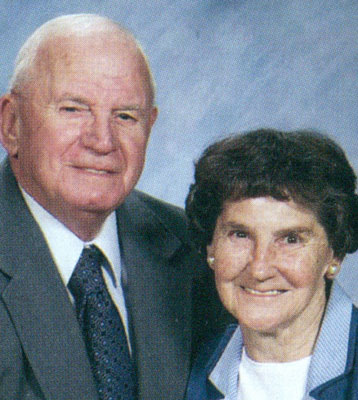 ROBERT ROLLAND WELK
"Together Again"
LIBERTY TOWNSHIP – Robert Rolland Welk peacefully passed away on July 31, 2013, joining his wife, Nancy (Reapsummer) Welk, who passed away on June 7, 2012.
Born on April 6, 1931, to Walter and Ethel Hoskins Welk, Robert was a lifelong resident of Liberty Township, graduating from Liberty High School in 1949.
After graduation, Robert served in the U.S. Navy aboard the U.S.S. Coral Sea. While attending high school, he met and later married Nancy on Sept. 29, 1956.
They were members of the Girard First United Methodist Church. Robert worked for 31 years at U.S. Steel McDonald Works and later at the Liberty School System, retiring in 1993.
Robert enjoyed woodworking, gardening, fishing trip to Canada, traveling, and family get-togethers.
Robert leaves a son, James (Todd Conhaim) of Eliot, Maine; daughter Judy Rader of Liberty Township; grandson Andrew Rader (Angéle Amar); and great-grandsons Holden of Seattle and Kyle Rader of Laveen, Ariz.; sister Beverly Deets; sister-in-law Virginia Reapsummer; and several nieces and nephews.
Besides his wife and his parents, Robert was preceded in death by his granddaughter, Rachel Lillian Rader.
The family wishes to express their gratitude to the staff of Clare Bridge of Austintown for their dedicated care of Robert.
Material contributions may be made to the Alzheimers Association in support of Clare Bridge's Walk To End Alzheimers in October, 1420 S. Canfield-Niles Road, Austintown, OH 44515.
Private services will be held on Saturday, Aug. 3, 2013.
Visit www.blackstonefuneralhome.com to view this obituary and to send condolences to the Welk family.
Guestbook Entries
« Be the first to sign ROBERT ROLLAND WELK guestbook.
---