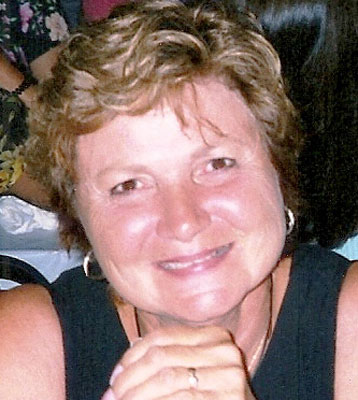 JEAN A. DAVIS
VIENNA – Jean A. Davis, 66, entered eternal peace on Wednesday, July 31, 2013, at 2:50 a.m. at the Cleveland Clinic following a brief illness.
Jean was born in New Castle, Pa. on Sept. 3, 1946, a daughter to Louis and Allene (Agnew) Scocchera.
Shortly after she graduated from Neshannock High School in 1964, she married the love of her life, her high school sweetheart, Joseph P. Davis, and together they started a family.
She loved caring for her family and looking after everyone. She found employment working as a claims adjuster with the Ohio Carpenter's Health and Welfare Fund, Niles, and she recently retired from the Trumbull Mobile Meals.
Her activities included riding snowmobiles and was a member of the Marienville Trail Riders Snowmobile Club. She also was the crew chief for the Endangered Species Drag Racing Team and enjoyed being an avid Tea Party Patriot. But most of all, she loved spending time with her family and her grandchildren.
Survivors include her husband, Joe of 47 years; her son, Kevin Davis and his wife, Cyndi of Hermitage, Pa.; her daughter, Shea McKelvey and her husband, Don of Fowler; her granddaughters, Winter and Danika Davis; her sister, Louise DeCarbo and her husband, Roger of New Castle, Pa.; and her brother, Fred Scocchera and his wife, Brenda, New Castle.
Her parents preceded her in death.
A time of gathering will be held to honor Jean's life today, Aug. 2, 2013, from 7 to 9 p.m. at the Briceland Funeral Service, 379 State Route 7, SE, Brookfield, OH. Her celebration continues on Saturday, Aug. 3, 2013, at 11 a.m. at the Brookfield United Methodist Church, 6951 Grove St., Brookfield, where friends and family may call one hour prior to the service. She will be laid to rest at Crown Hill Burial Park, Vienna.
As suggested by her family, material contributions can be made to the Trumbull Mobile Meals, 323 E. Market St., Warren, OH 44481.
Guestbook Entries
"Shea, I am so sorry to hear of your mother's passing. I know how hard this is. Cherish the memories and it will become easier. With heartfelt sympathy, Ruth"
» Ruth Snavley on August 2, 2013
"Shea, I am so sorry to hear of your mother's passing. Kim a and I wanted to express our sadness and that you and your family are kept in our prayers. "
» John Rasmussen on August 2, 2013
"Shea, sorry to hear about the loss of your MOM. Sympathy and prayers for you and your family. Paul"
» Paul sneddon on August 2, 2013
"Shea, So sorry for the loss of your Mom. God bless you and your family at this difficult time."
» Phil Muntean on August 2, 2013
"Shea,I am very sorry to hear of your mothers passing. You and your family are in our thoughts and prayers. Bob"
» Bob Eyster on August 2, 2013
"Shea, I am deeply sorry to hear about your Loss of your MoM, may god help you and your family get through this time of mourning.."
» Avery Sutton on August 2, 2013
"Dear Joe, All the members of the NHS class of 64 offer our deepest sympathy. It was always great to see you both at the reunions. Jeannie will be greatly missed. "
» Elinore Nesbit Snyder on August 3, 2013
"We are sorry for your loss. We will keep your family in our prayers."
» The Oates Family on August 3, 2013
"Dear Joe & Family I worked w/Jean for 13 yrs & she was a dear friend. Although I live in AZ now Jean & I stayed in touch on a regular basis. So sorry for your loss You & your family our in my prayers "
» Deb Stanek on August 3, 2013
"With deepest sympathy. We are so sorry for your loss. Jim Cochran NHS class of 64"
» Jim Cochran on August 3, 2013
"Joe, I'm praying that the Lord grants you and your family comfort and peace. "
» Gordon Mooney on August 3, 2013
"Joe, Kevin, and Shea. I am so sorry for the loss of your great lady. She made everyone her friend. She will be deeply missed."
» Jack Harlan on August 4, 2013
"Joe, I am so saddened to see the passing of Jean. My memories are near and dear to my heart of our friendship. Keeping you in my prayers."
» Patty Donley Davis on August 4, 2013
"Dear Joe & Family, I'm so sorry for your loss. Please accept my deepest sympathy. "
» Helen Fogarty Forbes on August 4, 2013
"Joe and Family, Deepest sympathies to you and your family. We will miss Jeannie as a member of our family too. Our hearts go out to you. Greg Horne NHS '64"
» Greg Horne on August 5, 2013
"Dear Joe and Family. We didn't know Jean was ill. I know we haven't been racing since John blew his engine. But oh well. We are going to the Nationals this year. Hope to see you, Our thoughts and prayers go out to you Joe. I pray that God will give you the strength to go on. Jean was so full of life and sunshine every time I saw her at the races. I will miss her beautiful smile, she was a wonderful lady, may God give her the rest in Heaven, I am so sad that I will never see her again. My heart cries for you Joe. Take Care. Your Racing Friends John & Susan Bowman"
» Bowman Racing, John & Sue on August 7, 2013
Sign the Guestbook
---