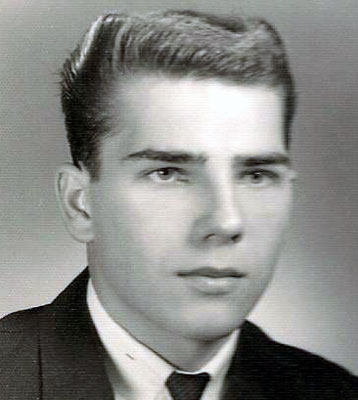 FRANK LEONARD KAYDO
AUSTINTOWN – There will be a Mass of Christian Burial held on Monday, Aug. 5, 2013, at 10 a.m. at Saint Christine Church, 3165 S. Schenley Ave. in Youngstown, with Father Christopher Cicero officiating, preceded by a 9:20 a.m. prayer service held at the Rossi & Santucci Funeral Home, 4700 Market St. in Boardman, for Frank Leonard Kaydo, 66, who passed away early Tuesday morning, July 30, 2013, with his loving family by his side.
Frank will always be remembered and loved by his family and friends for his smile and his way of socializing, making everyone feel welcome.
He was born Jan. 17, 1947, in Uniontown, Pa., the son of Frank and Margaret (Clay) Kaydo and moved to the Youngstown area as a child.
Frank was a 1964 graduate of Austintown Fitch High School, where he excelled on the basketball team.
He was employed for over 30 years with the United Parcel Service and retired in 2000.
Frank was an U.S. Army veteran, where he served in the Vietnam War and received an Honorable Discharge in 1972.
He was a member of the Teamsters Local 377, St. Christine Church and the Youngstown State University Penguin Club, where he was a season ticket holder.
Frank was happiest when he was watching his son and daughter's athletics careers, especially during their college careers. He also loved spending time with his family and friends, but what he truly loved the most his vacations that he and his wife spent together.
He was an avid sports fan and enjoyed tailgating and traveling to any sporting event, along with always cheering on his favorite teams, the Pittsburgh Steelers and YSU Penguins, where he never missed one of their games.
Frank also enjoyed gardening and golfing, where he and his friends took many golf trips that were unforgettable.
He leaves behind to hold on to his precious memories his wife of over 44 years, the former Linda Micchia, whom he married on July 12, 1969; a son, Frank Anthony Kaydo and a daughter, Michelle Joanna Kaydo, both of Austintown; and many loving family and friends.
Besides his parents, he was preceded in death by a brother, Jacob Kaydo.
Friends may call on Sunday, Aug. 4, 2013, from 3 p.m. until 6 p.m. and Monday from 8:45 a.m. until 9:15 a.m. at the Rossi & Santucci Funeral Home, 4700 Market St. in Boardman.
Family and friends may visit www.rossisantuccifh.com to view this obituary, sign the guest book and send condolences to the Kaydo family.
Guestbook Entries
"had many laughs at wedgewood bowling"
» Leo on August 3, 2013
Ms.
"Dear Frank Jr, Linda and Michelle Kaydo I am so sorry on the loss of your Dear Husband, father and friend. He had a great love for life, his family and his friends. I feel so honored to have known him from Sam's. Prayers are with you and your Family at this time. Melanie M. Mayesky (Viano)"
» Melanie M. Mayesky on August 2, 2013
Sign the Guestbook
---