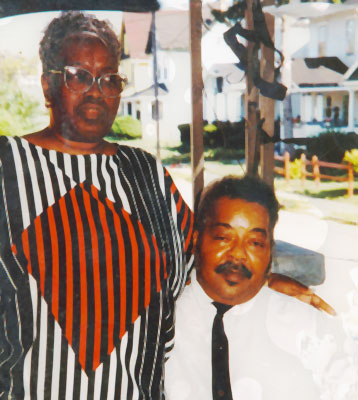 ELOISE CLINKSCALE
"Together Again"
AKRON – Services will be Saturday, Aug. 3, 2013, at 11 a.m. at the L.E. Black, Phillips & Holden Funeral Home for Mrs. Eloise Clinkscale, 71, formerly of Youngstown, who departed this life Saturday, July 27, 2013, at the Hospice Care Center in Akron.
Mrs. Clinkscale was born July 22, 1942, in Pittsburgh, a daughter of Emma Morgan Miles.
She was a 1959 graduate of East High School and had been employed in the food service department with Youngstown City Schools for over 10 years, retiring in 2004. She was a former member of the Mt. Zion Baptist Church. She enjoyed being with her family, and loved bingo and other social games.
She leaves to mourn her passing, but to rejoice in her peace, seven children, Cora (Anthony) Jones, Sherry (Eddie) R.ozier, and Pamela (Willie) Henderson, all of Youngstown, Kevin Daniels, Eugene (Erris) Clinkscale, both of Akron, Ronald (Brandy) Henderson of Youngstown and Rayonna Henderson of Akron; seven sisters, Elnora Miles of New Mexico, Virginia Miles of California, Priscilla (Harold) Poindexter of Texas, Gwendolyn Riley and Emma Miles, both of Philadelphia, Cynthia Mason of Pittsburgh and Rita Miles; six brothers, Richard (Sandra) Miles of Youngstown, William (Marian) Morgan of New Jersey, Frank Ware of Philadelphia, Maurice (Tonya) Miles of North Carolina, Clarence Miles of Pittsburgh, and Robert Miles of California; 18 grandchildren; 43 great-grandchildren; and a host of nieces, nephews, other family and friends.
Besides her parents, she was preceded in death by her husband, Ronald E. Clinkscale, whom she married June 9, 1979, and who passed away in August of 2003; her siblings, Danny, Allen, Joseph, Mary Frances and Marilyn Miles and Clara Bruce; and two great-grandchildren.
Friends may call from 10 to 11 a.m. Saturday at the funeral home.
Guestbook Entries
" sorry to hear about the passing of you mom Sherry (aka)Pint! prayers from the Thomas family in sacramento california!! i grew around Mrs. Elosie in the kimmel Brooks!! "
» Peaches Thomas on August 2, 2013
" sorry to hear about the passing of you mom Sherry (aka)Pint! prayers from the Thomas family in sacramento california!! i grew around Mrs. Elosie in the kimmel Brooks!! "
» Peaches Thomas on August 2, 2013
Chaplain
"Sherry, Kevin and Richard. We want you to know that you are in our thoughts and our prayer. We were saden to hear of the passing of your Mom and sister. May God give you peace and comfort during this time."
» Rev. Gary and Brenda Rozier on August 3, 2013
Church Clerk
"To the family of Eloise Clinkscale & Pastor and Sister Poindexter: Prayers, Love & Condolences on behalf of Pastor and Sister Townsend and the Unity Missionary Baptist Church Family of El Paso, Texas 4601 Maxwell Ave. 79904 (915) 757-0426"
» Lessie V. Thompson on August 7, 2013
Sign the Guestbook
---