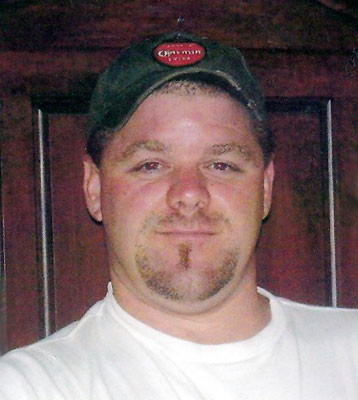 BRETT HOWARD SMITH
YOUNGSTOWN – Brett Howard Smith, 43, of the city's west side, passed away early Thursday morning, Aug. 1, 2013, at Hospice House with his family by his side, following a courageous battle with brain cancer.
Brett was born Dec. 10, 1969, in Canton, a son of Larry and Marsha Adams Smith, and came to Youngstown with his family as a child.
He was a 1988 graduate of Chaney High School and was working as a machinist at Parker Hannifin for the past 15 years. Previously, he had worked at Pennsylvania Tool.
He enjoyed drag racing, and was an avid outdoorsman who enjoyed many outdoor activities, including snowmobiling. He was a fan of the Pittsburgh Penguins and of the Seattle Seahawks, and Brett immensely enjoyed the time he spent with his children.
He was of the Presbyterian faith.
Brett leaves three sons, whom he loved dearly, Alec James Smith, Dane Michael Smith, and Connor Brett Smith; his mother, Marsha Smith of Youngstown; his father, Larry Smith of Youngstown; a sister, Stephanie (Jeff) Kapics of Austintown; a brother, Chad R. (Stacy) Smith of Akron; several nieces and nephews; his paternal grandmother, Loraine Smith of Salem; and his beloved dog, Baron.
His maternal grandparents, Howard and Donna Adams, and his paternal grandfather, Howard Smith, preceded him in death.
Family and friends may call from 5 to 8 p.m. on Saturday, Aug. 3, at Kinnick Funeral Home, 477 N. Meridian Road, Youngstown, and on Sunday, Aug. 4, from 12:30 to 1:30 p.m., at the funeral home, where Brett's funeral service will take place at 1:30 p.m.
In lieu of flowers, Brett's family suggests that anyone wishing to make memorial contributions do so by donating to the Brett Smith Trust Fund at any Farmer's National Bank branch, to benefit Brett's three children.
His family also wishes to thank the staff of the St. Joseph Cancer Care Center in Warren, and the staff of Hospice House, for the kindness shown and care given to Brett and his family during his illness.
Visit kinnickfuneralhome.com to view this obituary and to send condolences online to Brett's family.
Guestbook Entries
"Our thoughts and prayers are with Brett's entire family. We are so sorry and sadden for your loss."
» Michael & Suzanne Bernatovich on August 2, 2013
"Brett was a great man who will be truly missed. Our deepest sympathy goes out to his family at this difficult time. You are all in our constant thoughts and prayers."
» Rick and Jody KItchokoff on August 2, 2013
"May the love of those around you help you through the days ahead. Growing up with Brett was truly a blessing. He was everyone's best friend. I remember the go-karts, Nerf football in the front yard, swimming at his pool. Brett will remain in our hearts forever."
» Lisa (Bolha) Bray on August 2, 2013
"Stephanie my thoughts and prayers are with you and your family."
» Patty Webber on August 2, 2013
"We are sad to hear of his passing. Our thoughts and prayer are with the family. "
» The Cappelli Family on August 19, 2013
Sign the Guestbook
---