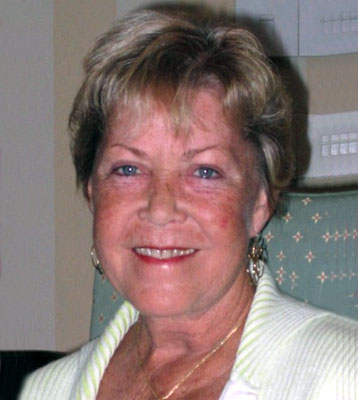 REBECCA W. NERY
COLUMBIANA – Rebecca W. Nery died Friday, April 26, 2013, at Citrus Memorial Hospital in Inverness, Fla.
The third of four daughters, Becky was born on June 21, 1944, to Lewis and Virginia Way. 
She was a lifelong Columbiana resident and devoted much of her time and energy to the community.
Becky graduated from Columbiana High School and attended Allegheny College, where she met her future husband, Victor W. Nery. She was an instructor of water safety instructors, was a member of the women's synchronized swimming team, and completed her bachelor's degree in education at Indiana University in Bloomington, Ind. They married on June 12, 1965.
Establishing their home in Columbiana, Becky and Vic raised three boys who are now married and have their own families, Vic and Laura (Morgan and Matt) of Columbiana, David and Bridget (Andrew, Ava, Eleanor and William) of Wiscasset, Maine and Mike and Katie (Natalie and Olivia) of Asheville, N.C.
Becky served her hometown as Park Board President, Village Council member, and was one of the original members of the Columbiana Community Foundation. She was the founder of the Firestone Park Festival of the Arts, was instrumental in rebuilding the Columbiana Park pool, and received the Citizen of the Year Award from the Columbiana Chamber of Commerce in 1983. The Nerys have been active members of the Salem Golf Club, and in recent years have spent winters at their second home in Florida.
Her husband, Vic; her children and their families; as well as her sisters, Polly (Frank) Boston, Sally (Orvis) Kinney and Margie Way survive her. 
Becky has many friends both in Columbiana and Florida who will remember her with love for the kind and caring person she was.
Calling hours will be held at the Warrick-Kummer-Rettig Funeral Home in Columbiana on Friday, May 3, 2013, from 2 to 4 p.m. and from 7 to 9 p.m. and on Saturday, May 4, 2013, from 10 to 11 a.m. 
Funeral services will follow at 11 a.m. at the funeral home with the Reverend Charles Ready officiating. 
Burial will follow at Columbiana Cemetery.
In lieu of flowers, the family has requested that memorial contributions be sent to the Columbiana Community Foundation, 11 South Main St., Columbiana, OH  44408.
Please visit www.familycareservices.com to sign the register and to send condolences.
Guestbook Entries
"To Victor & Family, Today is all sufficient for The burdens we must bear;Today is ours,to live,to love,Our brothers' sorrow share.Tomorrow never comes to us,And yesterday is gone;Therefore,today is all of time We have to build upon.Tomorrow is as far away As yesterday it seemed; So put your shoulder to the wheel And do the things you've dreamed. Unknown"
» Betty Lee Lawson on May 1, 2013
"Vic and Family, I am so very sorry to hear of your loss. I enjoyed Becky's gentle ways and kind words at Allegheny."
» Jeanne Whitney Smith on May 6, 2013
Sign the Guestbook
---