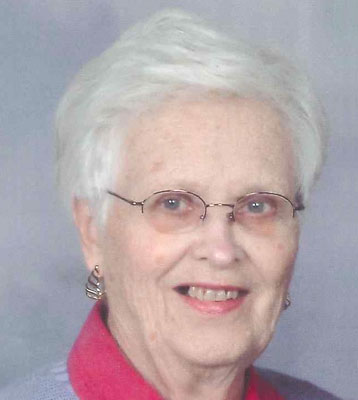 KATHLEEN E. 'KAY' ROWLANDS
YOUNGSTOWN – There will be a Mass of Christian Burial on Wednesday, May 1, 2013, at 4 p.m. at St. Patrick Roman Catholic Church in Hubbard, with the Rev. Timothy H. O'Neill and the Rev. John Summers officiating, for Kathleen E. "Kay" Rowlands, 90, formerly of Hubbard, who passed away Saturday April 27, 2013, at Park Vista Retirement Community.
Kathleen was born Feb. 26, 1923, in Niles, a daughter of John and Anne Dignan Snyder, and was a lifelong area resident.
She was the office manager at Stiver Motors for 35 years, retiring in 1985. She wintered on the West Coast of Florida for many years and had volunteered at the All Children's Hospital in St. Petersburg for 15 years.
She enjoyed playing bridge and was a past member of Hubbard Golf League.
Kay was a member of St. Patrick Roman Catholic Church in Hubbard.
Her husband, George R. Rowlands, whom she married July 2, 1947, passed away Oct. 17, 2010.
Kay is survived by her daughters, Sister Darla Vogelsang, O.S.U. of Canfield and Linda (Bob) Patterson of Tampa, Fla.; two grandsons, Christopher Patterson and Scott Patterson; and a great-grandson, Martin Patterson.
Beside her parents she was preceded in death by her husband; and her brothers, John Snyder, William Snyder and Paul Snyder.
There will be calling hours Wednesday, May 1, 2013, from 2 to 4 p.m. at St. Patrick Roman Catholic Church in Hubbard.
Kay will be laid to rest at Hubbard Union Cemetery.
In lieu of flowers, memorial contributions may be made to Ursuline Sisters, 4250 Shields Road, Canfield, OH 44406, Beatitude House 238 Tod Lane, Youngstown, OH 44504, or Hospice of the Valley, 5190 Market St., Youngstown, OH 44512.
Family and friends are invited to visit the funeral home's website at www.stewart-kyle.com to share memories and condolences.
Guestbook Entries
"Sr. Darla My thoughts and prayers are with you and your sister. I was so glad that I was able to have met your Mother. She is now at peace with Our Heavenly Father. God Bless"
» Michael Medvec on April 30, 2013
Sign the Guestbook
---