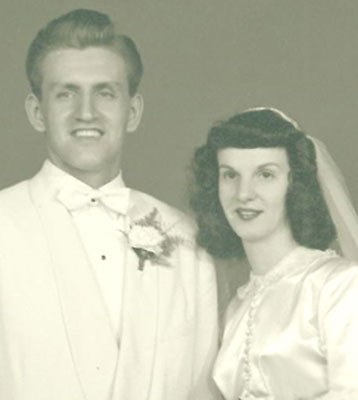 JOHN W. KRESEVICH
"Together Again"
BOARDMAN – John W. Kresevich, 86, formerly of 2254 Manor Ave. in Poland, passed away peacefully on Sunday, April 28, 2013, at Greenbriar Medical Health Center in Boardman.
He was born Nov. 6, 1926, the son of Joseph and Annie (Burlovich) Kresevich in Bessemer, Pa.
John graduated from Bessemer High School and attended the University of Pittsburgh. He served in the U.S. Army, then also attended Youngstown State University. He served as Past President of the East Side Kiwanis in Youngstown, worked at Republic Rubber and The Dollar Bank, retiring in December of 1991. He was also a member of VFW Post 3538 in Struthers.
He enjoyed all sports, such as football, baseball, basketball, bowling and golf.
His wife, the love of his life, Loretta, whom he married June 10, 1950, died June 19, 1998
An infant son, Robert Kresevich also is deceased.
Besides his parents, wife and son, John was preceded in death by his sisters, Ann Welsh and Mary Papes.
He is survived by nephews and nieces, Paul Colaluca, Dan Colaluca, James Colaluca, David Colaluca and Linda Varga, all of Youngstown, Michael Cholakian of Acton, Calif., Patricia Blazek of Henderson, Nev., Gail Yelsky of Mayfield Heights and Michael J. (Susan) Welsh of Canfield.
John cherished his nieces and nephews, many friends, neighbors and caregivers and will be missed by all those who knew and loved him.
The family wishes to thank the staffs of Greenbriar Commons Assisted Living and Greenbriar Medical Health Care for their loving and compassionate care over the last five years, especially those who "went the extra mile for him."
There will be no calling hours.
Services will be held Thursday at 10:30 a.m. at the Cunningham-Becker Funeral Home, 270 N. Main St. in Poland.
Interment will follow at Poland Riverside Cemetery.
Guestbook Entries
Sign the Guestbook
---