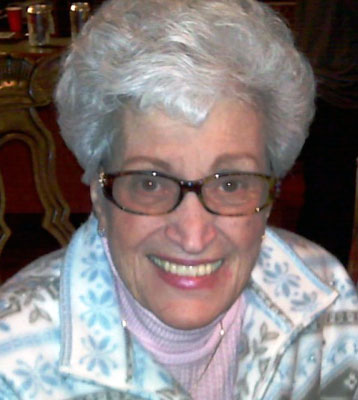 GLORIA GEMMA ZERBONIA
BOARDMAN – Prayers will be at 9:30 a.m. on Thursday at the Fox Funeral Home, followed by a Mass of Christian Burial, celebrated by the Rev. William Loveless at 10 a.m. at St. Dominic's Church for Gloria Gemma Zerbonia, 86, who entered into eternal rest surrounded by her family the afternoon of April, 28, at Assumption Village Nursing Home.
Gloria was born at 12:01 a.m. Jan. 1, 1927, a daughter of Antonio and Maria (Dipilla) Gemma in Youngstown, where she was a lifelong resident.
She graduated from South high School in 1945 and Youngstown College with a degree in Education in 1948. She taught 35 years for both the Youngstown School System and the Youngstown Diocese.
She married Ralph N. Zerbonia on June 7, 1948, and was married for 43 years prior to Ralph's death on Aug. 26, 1991.
Gloria was a member of Saint Dominic's Parish and former parishioner of Our Lady of Mount Carmel Church, Youngstown. She was a Third Order Dominican, Eucharistic Minister and active with the Youngstown Cursillo Movement for many years. Gloria also was the past-president of the Wolves Club Ladies' Auxiliary and a lifetime member of Mahoning Retired Teachers Association.
Gloria was very devoted to the Blessed Virgin Mary and prayed the rosary daily, especially the Divine Mercy Chaplet. She strived to be a true follower of Christ and lived out each day and every minute of her life to become a better Catholic-Christian. Gloria enjoyed her family and friends and exhibited a joy of life and laughter. Her voice was often heard above all others in church as she joyfully sang praises to the Lord.
Gloria is survived by many that loved her, but especially her loving daughter, Gina Zerbonia of Boardman; her sons, Ralph R. Zerbonia and his wife, Bonita Bartolo of Poland and Dr. Angelo Zerbonia of Erie, Pa.; her grandsons, Anthony and Nicholas Zerbonia of Erie, Pa. She also leaves behind many nieces and nephews, especially Dr. Mary Lou Gemma Ferranto and Mrs. Linda Capuzello O'Brien.
Besides her parents and husband, Gloria was preceded in death by her three sisters, Nancy Poidmore, Viola Poidmore, and Cecilia Capuzello; and brothers, Atty. William Gemma and Kelly Gemma.
Calling hours will be Wednesday, May 1, 2013, at the Fox Funeral Home in Boardman from 6 to 8 p.m.
The family would like to extend their heartfelt thanks to the special care unit at the Assumption Village Nursing Home for their kind and compassionate care given to their mother. The family also appreciates the many years of gentle and kind-hearted care given by Dr. Robert Spratt and his staff.
Family and friends may visit www.foxfuneralhome.org to view this obituary and to send condolences.
Guestbook Entries
"I am so sorry to learn of Gloria's passing. She was a beautiful woman whom I remember fondly. God bless her and her beautiful soul."
» Mrs. Susan Colucci Centorame on April 30, 2013
An Inspiration to Us All
"I was saddened to learn of Aunt Gloria' s passing and my thoughts and prayers go out to the family. I will always remember her perpetual enthusiasm for life and her unquestionable faith. Love, Chris "
» Chris Madeline on April 30, 2013
"Dear Ralph and Bonita,Sincere condolences for the loss of your Mother. You are in our prayers. Al & Lauren Perrotta "
» Lauren Perrotta on April 30, 2013
"Dear Ralph, Bonnie, Gina, and Angelo, You are all in my thoughts and prayers. My fondest memories of Gloria include her lively hospitality during our get-togethers for holidays and special times. I hold you all in my heart during these days. Love, Cherie"
» Cheryle Bartolo on April 30, 2013
"My sincere condolences to all of you on the passing of your mother. Gloria was special in so many lives and will be missed. With sympathy, Barbara"
» Barbara Donovan on April 30, 2013
"My sincere condolences to all my cousins and relatives, especially Gina,on the passing of Aunt Gloria. My thoughts and prayers are with you."
» Dawn Hendrickson on April 30, 2013
"Dear Gina, Angelo and Ralph, We send our deepest sympathy on the loss of your Mother. She was a special Aunt to all of us and we will miss her! We know she is now at peace with Uncle Ralph and her family. We pray you will find strength and peace during this most difficult time. Love, Sam and Rose"
» Rose Calco on May 1, 2013
"My prayers are with your family."
» David (Tisk) Batisky on May 2, 2013
Sign the Guestbook
---