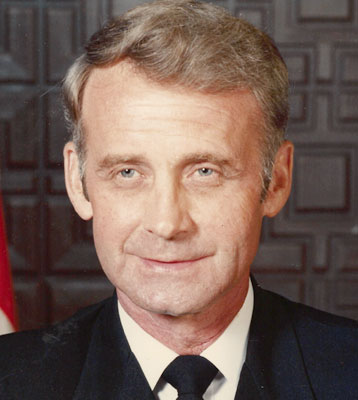 FREDERICK MCCANDLESS
MINERAL RIDGE – Frederick McCandless, 78, passed away Friday, April 26, 2013, at Briarfield at the Ridge Care Center.
Born Jan. 21, 1935, in Leavenworth, Wash., he was the son of Carl Sidney and Nina Elizabeth (Cahill) McCandless.
Frederick had served our country in the U.S. Navy during World War II. He was committed to serving his country and made this his career as a Captain in the U.S. Naval Reserve, Commander, Region Five.
Frederick was awarded many medals during his career, which included the Naval Reserve Medal, Vietnam Medal, Vietnam Campaign Medal, two Meritorious Service Medals, and a Legion of Merit Medal. He retired from the service in October of 1983.
Frederick married D. Todd Murdock on Aug. 29, 1997.
He was very active in the Weathersfield Community. He served as a member and chairman of the Weathersfield Local School District and Board of Education. He was a member and chairman of the Zoning Commission for Weathersfield Township.
Survivors include his wife; sons Douglas (Donna) Murdock of North Carolina, Frederick (Joanne) McCandless of Washington and David (Maria) McCandless of California; grandson Mark Henry Murdock of North Carolina; brothers Glenn (Cherie) McCandless of Idaho; and Don (Joanne) McCandless of California.
He was preceded in death by his parents.
Visitation will be held on Wednesday, May 1, 2013, from 4 to 6 p.m. at the Lane Family Funeral Homes, Mineral Ridge Chapel. A funeral service will follow at 6 p.m.
In lieu of flowers, contributions may be made to the American Heart Association and/or Paralyzed Veterans of American; PNA: Donation Processing Center, 7 Mill Brook Road, Wilton, NH 03086.
Family and friends may visit www.lanefuneralhomes.com to view this obituary and send condolences.
Guestbook Entries
"Darlene and Family, we were so sorry to hear about your husband and father. You have our deepest sympathy. Jake and Sue Taylor"
» Sue Taylor on April 30, 2013
"We learned today of Freds passing. We are so sorry to hear this sad news. We extend our sympathy. John & Mary Lou "
» Mary Lou Godleski on May 3, 2013
Sign the Guestbook
---