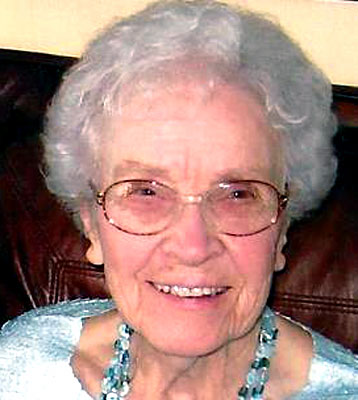 GWYNETH VIVIAN HALBERG
HANOVER, PA. – On Wednesday evening, April 17, 2013, Gwyneth Vivian Halberg, 95, a resident of The Brethren Home Community, went to be with her Lord and Savior.
Gwyneth was born Aug. 6, 1917, in Youngstown, the daughter of the late Owen and Rachel (Rees) Roberts. She lived in the Youngstown area most of her life and graduated from South High School.
Gwyneth was a member of the Glenwood Primitive Methodist Church in Boardman.
In May of 2011, she moved to Hanover.
She was a loving wife for 55 years of the late William A. Halberg, who passed away on Nov. 16, 2002.
Gwyneth is survived by a son, Richard A. (Virginia) Halberg of Houghton, N.Y.; a daughter, Vivian R. (Douglas) Gent of Hanover; a sister, Mona (Robert) Walker of Canfield; four grandchildren, Philip A. (Kathy) Halberg, Jill R. (Anthony) Brock, Christopher D. Gent, and Andrew D. (Katie) Gent; and six great-grandchildren.
In the words of her granddaughter, Jill, "Grandma was a special lady... always quiet and gentle, full of love and such a classy lady... She will be missed."
In addition to her parents, and husband, Gwyneth was preceded in death by a brother, Edward Roberts; and five sisters, Muriel Tucker, Charlotte Anderson, Betsy Sparrow, Ethel Roberts and Louise Roberts.
Funeral services will be held at 11 a.m. on Saturday, April 27, 2013, at the Thompson Funeral Home, 4221 Market St. in Boardman.
Family and friends may call from 10 to 11 a.m. on Saturday at the funeral home.
Gwyneth will be laid to rest next to her husband at Lake Park Cemetery in Youngstown.
In lieu of flowers, the family requests that donations be made to Wycliffe Bible Translators or to the Rescue Mission of the Mahoning Valley.
Please visit www.Thompsonfh1932.com to view this notice and send condolences.
Guestbook Entries
Sign the Guestbook
---