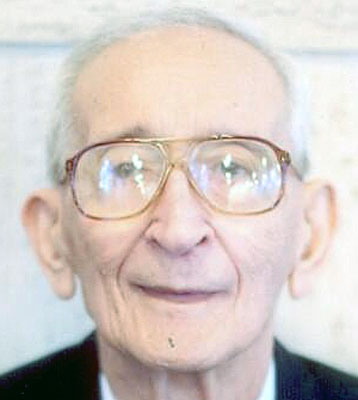 FRANK S. DELLICK
CAMPBELL – Funeral services will be held Monday at 9:30 a.m. at the Wasko Funeral Home, followed by a Mass of Christian Burial at 10 a.m. at Christ the Good Shepherd Parish at St. Lucy Catholic Church for Frank Dellick, 91, who passed away Wednesday evening at Hospice House.
Frank was born April 5, 1922, in Youngstown, the son of Walter and Anastasia Maletich Dellick.
He was a 1941 graduate of East High School, where he was inducted into their sports Hall of Fame in 1992.
Frank worked as a factory worker at Republic Rubber, which later became Aeroquip.
He was a member of St. Lucy Catholic Church.
Frank was an avid Browns and Indians fan. He was a patient man, especially when it came to gardening and yard work. Frank was the comedian of the family, telling stories that kept his nieces and nephews in awe.
Frank leaves to cherish his memory, his wife, the former Edith Piccoli, whom he married June 7, 1952; his daughter and son-in-law, Denise and Robert Yankle, with whom he made his home; his grandchildren, Robert Frank (Mandy) Yankle, Matthew (Amy Sebest) Yankle, and Sarah (Robert) Ridel; a great-granddaughter, Eliza Ridel; a sister, Rosemary Cifalde of Poland; two brothers, William (Betty) Dellick of Campbell and James Dellick of Poland; and his sister-in-law, Victoria Murar.
He was preceded in death by his parents; a sister, Katherine Dellick; and brothers, Jack, Joseph and Thomas Dellick.
The Dellick family has entrusted their loved one to the care of the Wasko Funeral Home and will receive friends Sunday from 3 to 6 p.m.
Visit www.waskofamily.com to view this obituary and send the Dellick family condolences.
Guestbook Entries
"My prayers are with you all. May God bless you all."
» Diana Daugherty on April 26, 2013
"May God bless you all during your time of sorrow."
» Georgeann McDougall on April 26, 2013
Niece
"May you rest in Peace my dear sweet Uncle Frank."
» Leslie Dellick Piette on April 26, 2013
"My heart goes out to you (Leslie and Sarah) in your time of sorrow. Keeping you all in my prayers! "
» Chemille Murphy on April 26, 2013
Sign the Guestbook
---