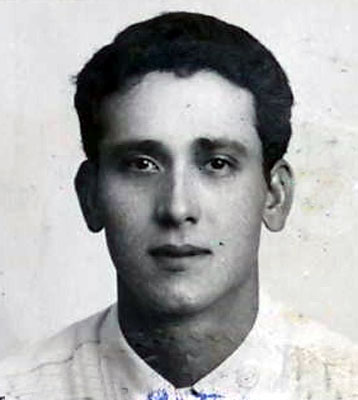 DOMINIC ANTHONY PANGRAZIO
LOWELLVILLE – Dominic Anthony Pangrazio, 83, died April 24, 2013, at Vibra Hospital.
Mr. Pangrazio was born Oct. 16, 1929, in Italy, a son of Joseph and Antoinette Pangrazio. He moved from Italy to Lowellville in 1947.
Dominic worked at LTV Steel until its closing. He was a member of Holy Rosary Church. He loved working in the garden.
He will be dearly missed by his wife, the former Anita Colucci, whom he married Oct. 13, 1951; one daughter, Vivian Kwasnic of Lowellville; and numerous nieces and nephews.
Besides his parents, Dominic was preceded in death by a one daughter, Jody Pangrazio-Krecken; and two brothers, Frank and Joseph Pangrazio.
A prayer service will be held on Saturday at 10 a.m. at the Cunningham-Becker Funeral Home, Lowellville, followed by Mass of Christian Burial at 10:30 a.m. at the Holy Rosary Church.
Interment will be at Holy Rosary Cemetery.
Friends and family will be received Saturday from 9 to 10 a.m. at the funeral home.
Please visit www.beckerobits.com to send condolences.
Guestbook Entries
"Anita,and Vivian so very sorry for the passing of your husband and father. "
» Debbie Conti Hephner on April 26, 2013
"Anita, Vivian and Family, So sorry to hear of the passing of your husband and father. My prayers and thoughts are with you at this most difficult time."
» Jim Bisconti on April 26, 2013
Ms.
"Anita and Vivian my sympathy goes out to you. This must be a very difficult time for you."
» Carol Coppola on April 26, 2013
Ms.
"Anita and Vivian my sympathy goes out to you. This must be a very difficult time for you."
» Carol Coppola on April 26, 2013
Sign the Guestbook
---