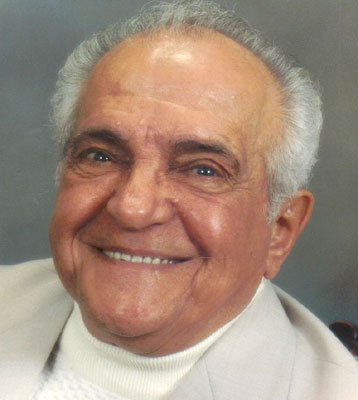 EDWARD J. FARRIS
BOARDMAN - Edward J. Farris, 82, passed away Saturday evening at St. Elizabeth Boardman Health Center after complications and illnesses following an injury sustained in late February.
Edward was born April 27, 1930, in Youngstown, a son of George and Tatla Nassar Farris, and had been a lifelong Youngstown resident.
He was a courageous fighter for his family and his beliefs, first exemplified by his time in amateur boxing as a Golden Gloves regional champion.
After leaving high school, he joined the Army National Guard and proudly served in the U.S. Army as a command driver and a tank commander during the Korean Conflict.
Edward married the love of his life, Carmella Marie Massaro, on March 28, 1951, just prior to leaving for Korea.
Upon his return, he drove a truck and started a dry cleaning business, and in 1961, Edward was proud to be commissioned as a Deputy with the Mahoning County Sheriff's Department.
He later worked as a salesman in the meat packing business before opening several small retail businesses, including A-1 Beverage Center in Struthers.
Edward is survived by his wife and by one sibling, George (Francis) Farris of Youngstown. He will be greatly missed by his sons, Edward Jr. (Phyllis), George (Marie) and John (Laura); his six grandchildren, George, Edward III, Nicholas, Anthony (Nicole), John and Victoria; and his two great-grandchildren, Nico and Ava.
Besides his parents, Edward was preceded in death by his brothers, Fredrick, Joseph, Nassar, James, John and William; and his sister, Elizabeth.
Family and friends may call from 4 to 8 p.m. Tuesday, April 23, 2013, at the Rossi & Santucci Funeral Home, 4700 Market St. in Boardman, where the Prayers of Incense Service will be held at 7 p.m. There will be additional visitation Wednesday morning, April 24, 2013, from 9 to 9:50 a.m. at St. Maron Church, 155 S. Meridian Road in Youngstown.
There will be a Divine Liturgy of Christian Burial held on Wednesday, April 24, 2013, at 10 a.m. at St. Maron Church, with Chorbishop Michael Kail officiating.
Burial will take place at Calvary Cemetery, Youngstown.
Family and friends may visit www.rossisantuccifh.com to view this obituary, sign the guest book and send condolences to the Farris family.
Guestbook Entries
retired Police Officer
"I knew your Dad years ago when I served with YPD. Always a class guy and a good guy. My deepest sympathy"
» Jim Pastore on April 22, 2013
"Sending prayers to the family for your loss."
» Tony & Jennifer Marinelli on April 23, 2013
"'Pup' was a wonderful, kind & thoughtful person. He will truly be missed. My thoughts & prayers are with all of you. Dawn"
» Dawn Trickett on April 23, 2013
"Our love and sympathy to you and your family on the death of your father. "
» Jerry & Beverly Vross on April 23, 2013
Sign the Guestbook
---