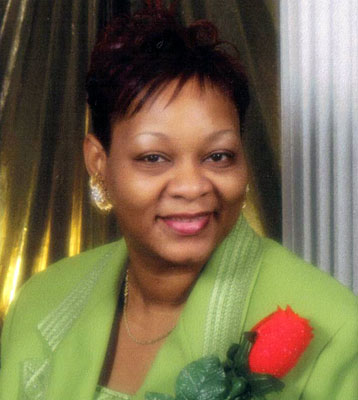 MINISTER YVETTE D. WALKER
YOUNGSTOWN – Services will be held on Friday, April 12, 2013, at 11 a.m. at the Elizabeth Missionary Baptist Church for Minister Yvette D. Walker, 45, who entered eternal rest on Wednesday, April 3, 2013, at St. Elizabeth Boardman Health Center.
Minister Walker was born July 13, 1967, in Montgomery, Ala., a daughter of Willie J. and Lillian Adams Scott.
She was a 1985 graduate of East High School and received her certification as a surgical technician from Choffin Career Center. She was employed as a surgical technician at St. Elizabeth Health Center-Youngstown for 13 years and as a teacher with National College.
Yvette was a member of the Elizabeth Missionary Baptist Church, where she served as Associate Minister and a member of its Mission Ministry. She enjoyed shopping and reading. She loved people, being with her family and especially loved serving the Lord.
She leaves to forever cherish her memory, her mother, Lillian Storey; two children, Shamir Walker and Brian Walker, all of Youngstown; seven sisters, Yvonne Bradley Scott, Adrieanne (Bre) Boudrey, Barbara (Frederick) Shelton and Sheneequa Storey, all of Youngstown, Sophia (Greg) Davis of Georgia, Marcia Turnage of Virginia and Chiffon Scott of New York; two brothers, Lamar (Doreatha) Ellis of Maryland and Robert Scott of Youngstown; and a host of nieces, nephews, other family and friends.
She was preceded in death by her father, Willie J. Scott and stepfather, Melvin Storey.
Friends may call Thursday from 6 to 8 p.m. and Friday, from 10:30 to 11 a.m. at the church.
The family would like to thank the staff of St. Elizabeth Health Care Center and Caprice Nursing Home for their care and concern for Yvette.
Arrangements are entrusted to the L.E. Black, Phillips & Holden Funeral Home.
Guestbook Entries
co woker
"Patsy medicus"
» so sorry. lost in words, you are in my prayers on April 10, 2013
"May God Continue to bless and comfort you at this time. So, sorry for your loss. Minister Walker is missed and loved by all. You are in my Prayers. I am glad I had the opportunity to meet her and lift up the name of Jesus with her."
» Sis Claudia Garner on April 10, 2013
"My prayers and condolences go out to the family. Yvette will be missed by all of her classmates and friends of East High School. "
» Regina L Hayden-Bryant on April 10, 2013
"Sorry to here about your love one.You are in my pray."
» Rosalyn(Sissy) on April 10, 2013
co worker
"So sorry for your loss Mau God keep you close to him."
» rita montgomery on April 10, 2013
"Our prayers are with the family for we know that for those of us who loved the lord like " Yvette did ", We know that this is not the end of the story, for she is in the presence of the Lord and those of us who love the Lord and Her, Shall see her again."
» Pastor & Sis; Simpson on April 10, 2013
co woker
"Patsy medicus"
» so sorry. lost in words, you are in my prayers on April 10, 2013
"My God you made such a beautiful lady, I will miss her so much. To the family I pray God's loving arms around you now and always."
» Sis Nisi Mays on April 10, 2013
"May god bless her mother , children , and the rest of her family. U worked with Vette as I called her for many years. I was always greeted with a smile she was just a wonderful person. This earths loss is defiantly Heavens gain. God only takes the best "
» Antwan on April 10, 2013
"To the family of Minister Walker - my condolences for the lost of your child. I was blessed to have known Minister Walker. She blessed me with her teaching and speaking. "
» RosaMaria Vega on April 10, 2013
"My prayers and concerns are with the family at this time. May our Heavenly Father continue to comfort you during this most difficult time. Much Love"
» Monty Wallace on April 10, 2013
"To the family of minister Yvette Walker,You have my deepest and sincere sympathy, you will forever be in my prayers. She was a very good friend I will always miss here."
» patricia streeter on April 10, 2013
"My prayers goes out to the family. Gone but not forgotten. RIP Yvette c/o 85 EHS"
» Robine (McRae) Morrison on April 10, 2013
"My prayers are going out to her family. And may the Lord continue to watch over her whole family."
» Marlowe fowler on April 10, 2013
"I'M SORRY FOR THE LOST BUT KNOW YOU ARE WITH THE LORD TRULY AN BLESSING TO HAVE KNOWN YOU WE WILL MISS YOU SENDING OUR LOVE FROM SEATTLE WASHINGTON "
» Carolyn L Taltoan on April 10, 2013
"To the Storey family my Prayers are with you and your Family May God give you strength in the days to come. "
» Ms.sonya Gilmore on April 10, 2013
family
"You all will be in our thoughts and prayers in this time of need. Yvette was a wonderful person who always had a smile on her face. We are both very sorry for your loss! In Christ love, Mary and Tony"
» Mary Yuhas and Tony on April 10, 2013
CST
"She loves the Lord and I had the upmost respect for her because she carried that with her everywhere she went. May the Lord be will you always Yvette."
» Kelly Wms on April 11, 2013
"To the Family, my most deepest condolences. Yvette was an angel given to us for just a little while. Be encouraged at this difficult time."
» W. Eric G. Aikens-Eleazar on April 11, 2013
Lisa Wright
"My prayers go out to the family. I still can't believe you are gone,but you are in a better place. "
» Friend on April 11, 2013
"Sister Storey, Minister Yvette was a bright star wherever she went. The earth is a bit darker now because there in the sky is one star that is brigter than all of the others! Praying much for you, and your family."
» Pastor Paula Lockett-Harris on April 11, 2013
"Such a wonderful woman of God...my heart is saddened. My prayers are with the family."
» Michelle A. Monroe-Love on April 11, 2013
"YVETTE WILL BE MISSED SHE HAD A WONDERFUL WARM PERSONALITY. SHE WALKED IN THE LIGHT OF THE WORD OF GOD. REST IN PEACE YVETTE."
» CHRISTINE LYNCH on April 13, 2013
"My deepest condolences go out to the family. Yvette was a wonderful person and you all will remain in my prayers. May God bless you."
» Vilma K. Fernandez on April 12, 2013
DEACON
"I AM DEEPLY SADDEN TO HAVE FOUND OUT THAT YVETTE HAS GONE ON . BY HER SHARING HER LIFE WITH ALL OF US WE BECAME BETTER PEOPLE . I WILL MISS HER SMILE AND HER OPENESS , WE HAVE TRULY LOST AN ANGEL,WAY TO SOON . I OFFER MY CONDOLENCES TO HER FAMILY AND FRIENDS AND MEMBERS OF HER CHURCH FAMILY AS WELL . DEACON JOSEPH NAPIER SR CHRISTAIN BIBLE BAPTIST CHURCH YOUNGSTOWN OHIO"
» JOSEPH NAPIER on April 13, 2013
Friend
"Adrian, I offer to you and your family my most heartfelt condolences in your loss. May God comfort you in your hour of need."
» Stephanie Hubbard-Bryant on April 13, 2013
Friend
"Adrian, I offer to you and your family my most heartfelt condolences in your loss. May God comfort you in your hour of need."
» Stephanie Hubbard-Bryant on April 13, 2013
"It is a blessing to see the legacy that Vette left behind as she has been called home because her work here was done! Her smile reflected what was inside of her and that was genuine sincere love for God and for souls. My prayers go out to all who know her and miss her. Remember her message, live it, and she will continue to live on! EHS Golden Bear, Class of 1985"
» Sarah Cruz-Banks on April 14, 2013
Ex Hub
"I am going to miss you. I think I was put in your life to keep you moving to god, and you were put in my life to teach me more then the strees. You give me a beautiful young lady and name her Shamir. I will do my best to keep her going the right way and I hope you will help me from the heaven above to tell her the right thing to do. Will miss you. "
» Edward Walker on April 18, 2013
Sign the Guestbook
---