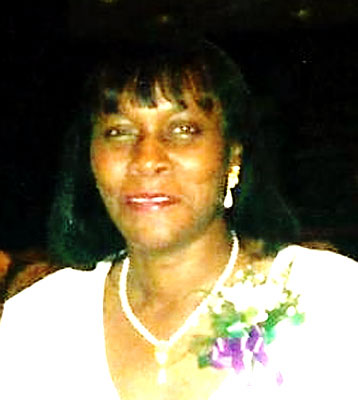 LILLIAN 'LILLIE' PATRICIA JEFFERSON
COLUMBUS – Lillian Patricia Jefferson, affectionately known as "Lillie," formerly of Youngstown for many years,  became ill and moved to Columbus to be with her son, Petey and his wife, Lilly. Lillie's life journey ended on April 4, 2013, and she entered into the eternal realm of her Lord and Savior Jesus Christ. 
Lillie was born Dec. 29, 1944, to the late Roy and Patsy Green. 
She was a graduate of East High School. 
She married  Marion "PeeWee" Jefferson Sr in 1964, and from that union they had three children. 
Lillie was employed for  25 years at Southside and Northside Hospitals in the Dietary Department until her retirement. She was a member of the Kimmelbrook Baptist Church and was on the church Usher board. 
Lillie enjoyed watching old movies, drinking  "RC Cola," being with her grandchildren, and visiting with family and friends.  
She leaves behind to cherish her memories are  her son, Marion "Petey" (Lilly) Jefferson of Columbus; daughters  LaTonia  and LaShawn  Jefferson, both of Youngstown and Christine Wright; a niece she reared of Columbus; her brother,  Ellis (Grace) Green of  Youngstown;  sister Elsie (William) Colvin of Columbus; and foster sister, Margaret Wright of Youngstown; her aunt, Ethel Lee Collins of Youngstown  and Ruth McWhite of Philadelphia; grandchildren  Jarell Jefferson of Columbus, Latoya (Welt) Whitfield of Colorado Springs,  Colo., Pamela Jefferson, Brandon Thomas and Devon Jefferson of Youngstown,  and Ronald and Josalyne Smith of Columbus; and a host of cousins, nieces, nephews, great-grandchildren and friends.
She was preceded in death by her parents, Patsy and Roy Green;  husband Marion Jefferson Sr.;  sister Katherine Laney; and brothers  Rufus and Frank Green.
Lillie was well loved and will be missed by her family and friends. 
"We also will miss her pretty hazel colored eyes, bright, beautiful smile, her laughter and her kind gentle spirit."
Funeral services will be Friday at 11 a.m. at the chapel of Caliman Funeral Services, 3700 Refugee Road, Columbus, OH 43232.
Vistiation is from 10 to 11 a.m.
Guestbook Entries
"To the family of Lillian Jefferson in the loss of your mother and grandmother you have my deepest sympathy may God Bless You and your family. Jean Rogers and Family Youngstown, Oh."
» Jean Rogers on April 10, 2013
Sign the Guestbook
---