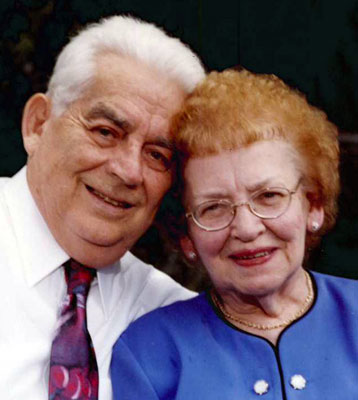 DOROTHY 'DOT' (DURANT) MAE MOLNAR
"Together Again"
HUDSON – Dorothy "Dot" (Durant) Mae Molnar, 89, formerly of Chase Mills, N.Y., passed away Monday, April 8, 2013, at her residence in Hudson.
She was born Oct. 1, 1923, in Bombay, N.Y., a daughter of the late Louis and Mary Catherine (Mae) Durant.
Mrs. Molnar was an office worker at Alcoa for many years.
A loving and devoted wife, mother, grandmother and great-grandmother, she will be deeply missed.
Survivors include her children, John Molnar of Manlius, N.Y., Bill (Nancy) Molnar of E. Syracuse, N.Y., Gene (MaryAnne) Molnar of Ormond Beach, Fla., Marilyn (Jim) Dubeansky of Mentor, Richard Molnar of Hamilton, David (Tracy) Molnar of Hudson, where she had lived for the past year and a half and Anthony (Tammie) Molnar of Mineral City; her sister, Helen of Moira, N.Y.; 12 grandchildren; and four great-grandchildren.
She was preceded in death by her husband Augustus "Gus" Molnar; sisters, Ethel and Betty; brothers, Ken, Art Ted, Elwood, and Tom; and two grandchildren, Lisa and Kelly.
A funeral Mass will be held at 11 a.m. on Friday at the Church of the Visitation, 3 Morris St. in Norfolk, N.Y.
The family will receive friends from 10 to 11 a.m. on Friday at the church.
Interment will be at Visitation Cemetery in Norfolk.
Arrangements are entrusted to the Brunner Sanden Deitrick Funeral Home & Cremation Center in Mentor.
Visit www.brunners.com to view the online obituary.
Guestbook Entries
« Be the first to sign DOROTHY 'DOT' (DURANT) MAE MOLNAR guestbook.
---