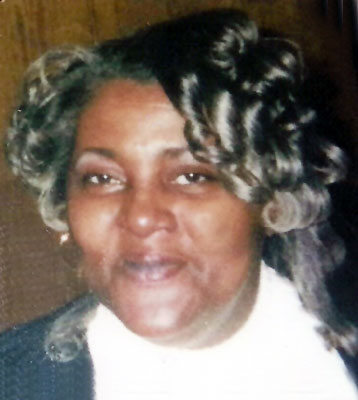 CYNTHIA LEE JONES
YOUNGSTOWN – Cynthia Lee Jones, 55, transitioned from her earthly home on Sunday, April 7, 2013.
Cynthia, also known as "Cindy" or "Cindy Lou," was born on Oct. 25, 1957, in Youngstown, a daughter of William and Bernice William Jones.
She was a 1975 graduate of South High School and went on to pursue an Associates Degree in Business Management, as well as an Associates Degree in Entrepreneurial Management, in which she graduated Valedictorian of her class.
Cindy proudly worked for Wendy's for over 10 years after relocating to Toledo to begin a new life. She enjoyed going to church, helping others, going to bingo, but most of all, spending time with her five grandbabies, Taelor, Tylor, Terron, Samiah and Sydney.
Cindy leaves behind to cherish her beloved memory, her devoted fiancee of 20 years, Benjamin Bennett; two beautiful daughters, Tinesia Jones of Youngstown and Kimberly (Samuel) Robinson of Toledo; five wonderful grandchildren, Taelor Penny, Tylor Penny, Terron Penny, Samiah Robinson and Sydney Robinson; and six siblings, Mary Tyson of Youngstown. Shirley (Eddie) Blair of Youngstown, Gail Lorene McQueen of Columbus, Arthur Jones of Las Vegas, William Jones III of Cleveland and Beverly McReynolds of Toledo.
She also leaves behind a host of nieces and nephews, as well as other family and friends.
Cindy was greeted in Heaven by her parents, William Jones Jr. and Bernice Jones; her maternal grandparents, Elmore Williams Sr. and Mary Jo Dukes-Williams; her paternal grandparents, William Jones Sr. and Willie Lee Jones; her sisters, Barbara Jones and Dorothy Jones; and a niece, Rosette Jones.
Calling hours will be from noon to 2 p.m. on Saturday at the F.D. Mason Memorial Funeral Home.
Guestbook Entries
Friend
"My prayers are with all of her family and friends. Cindy had been a good friend of mines since South High School days. I will miss her calling me by my name in Spanish, or "baby girl". God Bless This Family, and help them through this trying time. Aman"
» Dorothy Dixon (Dottie) on April 11, 2013
"Prayers going up to the Jones family,for the lost a very special person Cynthia Jones. Cynthia was classmate that always had something nice to say. I was happy to reconnect with her on Facebook after so many years. RIP Cindy."
» Darryl Kimbrough on April 10, 2013
Ms.
"My deepest and sincere condolence to the Jones family. May you Blessed with Peace and Love during your time of sorrow."
» shaq Jones aka Molly Douglas on April 10, 2013
My Sister/My Buddy
"I Love you sister. I thank my God he allowed us to be as one blood. Tell my Mother & Barb I Love them an I know you are sitting by his thrown. I miss you a lot but I know your work here was complete. I will see you agan one day,your sister & your friend Loew."
» Loew on April 10, 2013
friend
"you will surely be missed in this world GOD BLESS U and FAMILY love u always for being my friend"
» larry jacobs on April 10, 2013
friend
"you will surely be missed in this world GOD BLESS U and FAMILY love u always for being my friend"
» larry jacobs on April 10, 2013
"..and we shall behold him. "
» Sharon Ervin on April 11, 2013
"..and we shall behold him. "
» Sharon Ervin on April 11, 2013
"..and we shall behold him. "
» Sharon Ervin on April 11, 2013
Friend
"Cindy has been a friend to me since the South High School days. I will miss her calling me by my name in Spanish or "baby girl". God help this family through this time of loss and pain, and Give the the knowledge tat she is with YOU now. Love you Cindy!"
» Dorothy Dixon, (Dottie) on April 11, 2013
"My heartfelt condolences go out to the Jones Family during this difficult time. I was sad to hear of Cynthia's passing, but glad to know she had a relationship with the Lord. She was my classmate at Hillman Jr. High. May God Bless and comfort those she have left behind, but know God only takes the BEST! RIP "Cindy" My friend."
» Carolyn Bryant Moore(Vincent Sr.) on April 11, 2013
"Prayers of strength & comfort go out to the Jones Family @ this time. It was a blessing to have know Cindy throughout the yrs...I will truly miss the blessing of her presence..."
» Vivian Dixon on April 11, 2013
"Prayers of strength & comfort go out to the Jones Family @ this time. It was a blessing to have know Cindy throughout the yrs...I will truly miss the blessing of her presence..."
» Vivian Dixon on April 11, 2013
"My Condolence Goes Out To The Jones Family....May God Bless You Each And Cover You At This Time And Always...Cynthia Was A Kindheartd Person With so Much Warmth And Spirit Of The Lord That I Felt Her Spirit Whenever We Talked On FB She Will Be Truly Missed.... Diane Sims Also Asked That I Send Her Condolence At This Time.... God Bless You All...."
» Diane on April 12, 2013
"Bengi and the Jones family, my prayers are with you all at this difficult time. Find peace in the many fonds memories with Cindy. Cindy,Beverly,Putty and Roddy and I have memories all the way back to elementary school. Peace be upon you all. Denise Muhammed ( Ford)"
» Friend on April 13, 2013
"Lol, remember how in 2005 in Excel computer class at Stautzenberger, you was like, "Lucy, girl, help me, child. I am so frustrated." I used to say, "Ok, calm down, it's not that serious." Little did you know, I was about confused as you were, but I was able to help. You showed up at my graduation, and told me were you proud of me. I tried to find you, and my message must not have gotten through. Little did I realize you were sick that I wasn't there, but you had lots of support and love. You left me without saying, "See ya later, baby", so I'll say it, "Cynthia, see ya later baby. Rest now, rest.""
» Lucy Tisdale on April 19, 2013
Merry Christmas,I love you,I miss you
"Grandma you don't understand how much I miss you. I wish you were here with me. Lord knows it'll be the best gift ever if I could hear your voice and see your face one more time. It sucks that now all I have left is memories, pictures, and the kern. We still even have your teeth lol. Good thing I have you looking on me from up above. I still talk to you when I'm by myself or in my head. I wish I can call you and tell you about everything that goes on. I wish I could go to your house and lay in bed with you.I wish I could hear that beautiful laugh. I wish I could hear you tell me that story about me hitting with the spoon 3 times I the head again when I was a baby. I wish we could have long talks again.I wish I could hear you talk about eating noodles like it was steak lol. I even miss hearing you and papa Jr arguing all the time. It's just the little thing I want back to make me complete again. A part of me has been missing since you went to see Granny and Aunt Barb. Man I can't stop crying...I hope you seen my homecoming pictures, people kept saying I looked like you, and the more I heard it the more I seen the resemblance. Auntie Kimmy is having a new baby, her name is going to be Skylar. I wish she could meet you so she could've met the ultimate best grandma in the world. Well I think I'm done venting,I love you grandma...Merry Christmas. "
» Girl who hit you with a spoon.. your taetae on December 25, 2014
"I love you, I miss you. I'm turning 17 next week, and it's my last year of school. Wish you were here to celebrate. "
» TaeTae on July 23, 2015
"I love you grandma. I'm turning 17 next week, I wish you were here to celebrate with me. Its been too long and I'm lost without you, seriously. Haven't really been the same since you left. Goodnight, I miss you."
» TaeTae on July 23, 2015
Sign the Guestbook
---