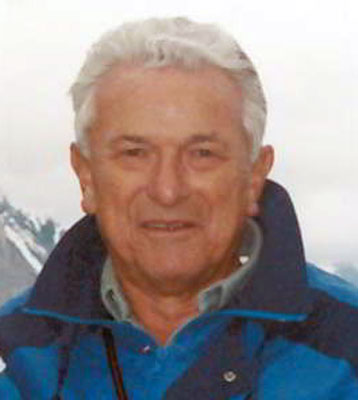 ROBERT DWIGHT EGGLESTON
STRUTHERS - Robert Dwight Eggleston, 86, died April 8, 2013, at Hospice of the Valley, Hospice House.
Mr. Eggleston was born March 15, 1927, in Sharon, Conn., son of Gerald and Edith Landon Eggleston.
He graduated from high school in 1944 in Pleasantville, N.Y. He attended Clarkson University in Potsdam, N.Y. Robert worked as an Office Space Administrator for General Foods for 35 years. He volunteered at Pleasantville Fire Department, where he was Captain for a year.
Music was a big part of his life, having sang in various choirs and the Barber Shop Quartet during his time in New Bern, N.C.
Robert was a veteran of the U.S. Navy, having served during World War II.
He is survived by his wife, the former Emma Baldwin, whom he married July 28, 1951; daughter, Julie MacNaught and her life partner, Gregory Bedell of Durham, Conn.; son, Steve Eggleston and his life partner, Patricia Stafford of Struthers; five grandchildren, Max and Emily MacNaught, Jason and Robert J. Eggleston, and Melissa (Mike) Nicosa; and one great-grandchild, Rosalie Zito.
Besides his parents, he was preceded in death by two sisters, Ruth Roach and Geraldine VanTwisk.
A memorial service will be held Wednesday at 7 p.m. at the Davidson-Becker Funeral Home, Struthers, where friends and family will be received one hour prior.
Contributions may be made to a charity of donor's choice.
Visit www.beckerobits.com to send condolences.
Guestbook Entries
"Dad, You were the rock of our family... always there to help through thick and thin. You taught me to work with my hands as soon as I could turn a screwdriver and lift a hammer, skills that have provided for my family and served so many others to even count… So many fond memories of our great times from Camp at Indian Lake to all the summer camping trips to Maine , albeit I know I didn't travel well.. As a young boy the time spent on your boot heals as you went to the fire station helping me climb onto hose beds and into the cab of classic American LaFrance Fire Apparatus set the tone for what now has become a passion three generations deep... You will be sadly missed by everyone...Our commitment to you continues and collectively as a family we will try to bridge the gap to see that Mom… the center of "your" life will have our full support going forward. Helping to meet her needs. And yes even help her to balance her checkbook. Love Steve "
» Steve on April 9, 2013
Message for comfort and peace
"Julie and family, We all are thinking of you and hope that you are wrapped in the comforting arms of family and friends at this difficult time. Your father was clearly a wonderful man and you must be so proud of him and what he had accomplished in his lifetime. He lives on in the many wonderful memories that you all share. Peace and comfort, New England Pirates (Julie's hockey family)"
» Lisa Thibodeaux on April 9, 2013
"Dear Aunt Bits, Julie and Steve and entire family - I am so sorry for your loss. I have such fond memories of Uncle Bob at the lake growing up. He was funny and fun and always so kind. God Bless you are in our prayers XXXOOO "
» Ann Baldwin Monahan on April 9, 2013
Sign the Guestbook
---