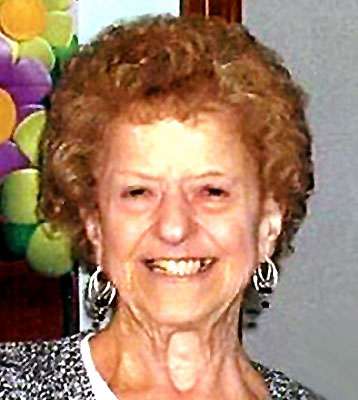 PAULINE C. STANAVICH
AUSTINTOWN - Pauline C. Stanavich, 83, passed away unexpectedly Saturday evening, April 6, 2013, at St. Elizabeth Health Center in Youngstown.
Pauline was born Dec. 1, 1929, in Yatesboro, Pa., a daughter of the late Charles and Mary Sacco Muff, and came to this area in 1955.
She spent her adult life as a loving wife, mother, grandmother, and homemaker, and in her younger days, worked in her uncle's five & dime store, and also worked in food services at Indiana University of Pennsylvania.
Pauline was a member of Immaculate Heart of Mary Church in Austintown, and was a member of the Catholic War Veterans John J. Buckley Post Ladies Auxiliary. She enjoyed cooking and gardening, and most importantly, spending time with and caring for her family.
Mrs. Stanavich leaves her husband, Joseph A. Stanavich, whom she married May 21, 1955; three children, Carolyn (Rick) Betts of Youngstown, Joseph J. (Ann) Stanavich of Boardman, and Charles A. Stanavich of Boardman; eight grandchildren, Heather (Tom) Sewell, Eric, Emily, Holly, Amanda, Caitlin, Stephanie, and Christie; a great-granddaughter, Taylor; and three sisters, Caroline Daquilanto of Yatesboro, Donna Adams of Youngstown, and Mary Ann Honkus of NuMine, Pa.
She was preceded in death by a brother, Thomas Muff; and two sisters, Florence Brokaw and Rose Hendrickson.
Family and friends may call from 5 to 8 p.m. today, April 9, at Kinnick Funeral Home, 477 N. Meridian Road, Youngstown
Funeral services will begin at 9:30 a.m. on Wednesday at the funeral home, and continue at 10 a.m. with a Mass of Christian Burial at Immaculate Heart of Mary Church on Norquest Boulevard. Entombment will follow at Green Haven Memorial Gardens.
Visit kinnickfuneralhome.com to view this obituary and to send condolences online to Pauline's family.
Guestbook Entries
« Be the first to sign PAULINE C. STANAVICH guestbook.
---