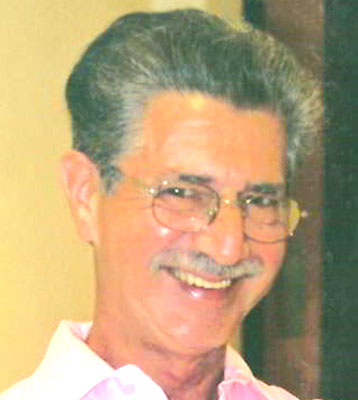 FRANK STEPHEN NEMICK JR
STRUTHERS – Frank Stephen Nemick Jr., 71, died Saturday, April 6, at his residence.
Frank was born June 5, 1941, in Youngstown, a son of the late Frank Stephen and Irene Fusco Nemick.
He was raised in Brier Hill and had lived in Struthers since 1963.
Frank attended Hayes Junior High School and The Rayen School and was a professional truck driver. He retired in 2008 from ABF Trucking.
From 1963 through 2008, he was a member and past union official of Teamster Local 317. He was a member of Poland Masonic Lodge F.&A.M. 766 and the Campbell Athletic Club. Frank was a member of St. Michael Byzantine Catholic Church in Campbell.
Frank enjoyed garage sales, working in his garden, home remodeling and snow plowing. His happiest times were when he was with his family and his two loyal canine companions, Harley and Emmy.
Frank's wife, the former Judith Ann LeClair, whom he married May 28, 1960, died May 21, 2007.
Frank leaves to cherish his memory, his companion, Anna Marie Bertilacci, with whom he made his home; one son, Frank Stephen Nemick of Lafayette, Ind.; one daughter, Nanette (Joseph) Angelilli of Poland; and four grandchildren, Nicholas, Taylor Ann and Jarrett Nemick of Columbiana and Simone Francis Izzo of Poland.
A Mass of Christian Burial will be held on Wednesday at 11 a.m. at St. Michael Byzantine Catholic Church with Fr. Basil Malachik officiating.
Interment will follow at St. John the Baptist Catholic Cemetery.
Friends will be received today from 4 to 7 p.m. at the Davidson-Becker Funeral Home, Struthers where the Parastas will be held at 6 p.m. The Panachida will be conducted Wednesday at 10 a.m. at the funeral home.
Please visit www.beckerobits.com to send condolences.
Guestbook Entries
modarelli
"my deepest symparhy goes out to anna marie and family. a lot of good memories go back yo the hayes school with frank "
» gene on April 9, 2013
"Just thinking about you Frank and the happy hours around that kitchen table makes me smile. I do laugh out loud when I recall the day you brought home a dozen of mixed donuts and placed them in the center of the table. They looked fabulous and I said," I could take a bite out of each one." You said, " go ahead." So, I did and we laughed until we were bent over. Took awhile before I could eat a donut again. The angels are smiling to see your smiling face. God Bless you and your wonderful family. Love, Aunt Cis"
» C. B. LeClair on April 9, 2013
"Met Frank through Anna Marie, and found him to be such a nice man, loved seeing them reunite! (Bert and June's daughter)"
» Janice L. on April 9, 2013
Condolences
"May You Rest In Peace, And Look All Over Us In Peace. "
» On Behalf Of Serena Family on April 9, 2013
Sign the Guestbook
---